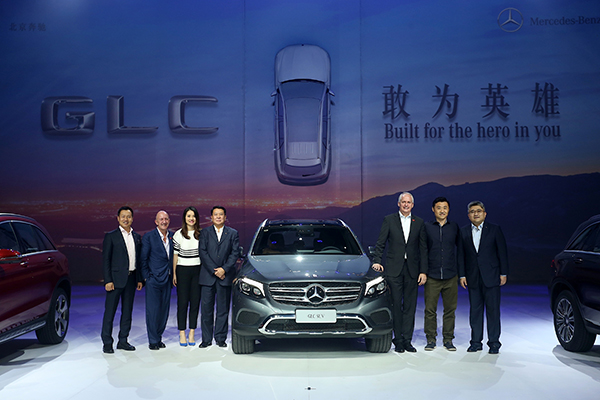 Executives from Daimler Group, BAIC and Mercedes-Benz attend the GLC SUV launch event on Thursday in Guangzhou. [Photo provided to China Daily]
Automaker rolls out a powerful product lineup
Mercedes-Benz held a gala event to unveil its much-anticipated All New GLC SUV at the Guangzhou Gymnasium on Thursday to showcase its interpretation of what it means to be a hero.
The fine qualities that define a hero are shown through the obligations one shoulders for family, career, society, and the care offered to loved ones. Under the slogan, "Built for the Hero in You", the new car's launch perfectly echoes people's expectations of the hero in themselves.
Hitting the market in China were five variants: the GLC 200 4MATIC, GLC 260 4MATIC Dynamic, GLC 260 4MATIC Luxury, GLC 300 4MATIC Dynamic and GLC 300 4MATIC Luxury, priced from 396,000 yuan to 579,000 yuan ($62,080-$90,770).
As the successor of the GLK SUV, the All New GLC SUV, with its new nomenclature, refreshing exterior design, upgraded interior space, superior driving performance, innovative technology and benchmark-setting safety standards, speaks to those who have the courage to shoulder responsibilities as they live life to the fullest.
"Being a hero means facing all challenges fearlessly and making an otherwise ordinary life extraordinary," explained Duan Jianjun, executive vice-president responsible for sales and marketing of Beijing Mercedes-Benz Sales Service Co.
"Built for the Hero in You', the All New Mercedes-Benz GLC SUV combines state-of-the-art technology and performance, and is capable of dominating all road conditions, while at the same time ensuring safety and comfort. By virtue of its strength, stability and inclusiveness, this vehicle is the perfect car for people who face challenges in ordinary life and rise above their problems by daring to be the hero."
Star-studded launch
The gymnasium hosted the launch of the All New GLC SUV and was a perfect locale for the athletic new mid-size SUV from the German premium automaker.
Held the night before the Guangzhou auto show opened, the launch event featured performances by hot pop-star Stefanie Sun, singer-songwriter Harlem Yu, and the latest Voice of China Champion Zhang Lei.
China's most famous and dedicated tennis star Li Na, who stars in the new commercial for the All New GLC SUV, also appeared, while many GLK SUV owners shared their moving stories of facing challenges, growing and becoming successful together with their GLKs.
As the second generation of Mercedes-Benz's mid-size luxury SUV, the GLC is just the latest SUV model from the German automaker to be launched in what the company calls its "Year of the SUV".