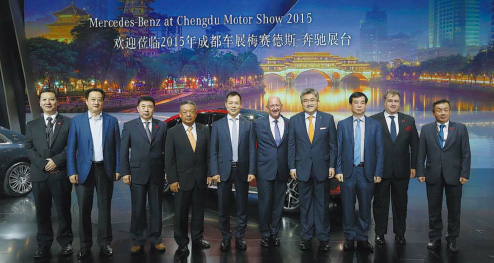 Mercedes-Benz executives and dealer partners at the Chengdu Motor Show on Friday. [Photo provided to China Daily]
New models add to lineup to assure strong growth
The summer heat might have been dispersed, but at the Chengdu Motor Show that opened on Friday, Mercedes-Benz showed no sign it plans to calm down this year's product offensive.
With 36 models on stage from its four brands-Mercedes-Benz, Mercedes-Maybach, Mercedes-AMG and smart-the premium German automaker was out in full force, including showing two heavyweight new models-the Mercedes-Maybach S 500 4MATIC and the All new GLE Sport SUV.
"There is a theory that China's economy may not grow as fast as previous years, but i believe that direction is more important than speed," said Nicholas Speeks, president and CEo, Beijing Mercedes-Benz Sales Services, at a press conference.
"It's a bit like here in Chengdu-even when the hot pot is 'way lah', it is still pretty hot," he added. "Just like China-even when growth is moderate, it is still strong."
China sales have shown significant growth this year for the Stuttgart-based brand.
"From January through August of this year, Mercedes-Benz passenger car sales in China exceeded 220,000 units, with an increase of 30 percent year-on-year, maintaining double-digit growth," said Speeks.
"While continuously introducing attractive products such as the GLE Sport SUV, we are openly delivering on our commitment to customers by providing them with customer services which offer both transparency and more value for their money," he said.
One day before the show, four diverse models of the GLE Sport SUV were unveiled-the Mercedes-Benz GLE 320 4MATIC Sport SUV, GLE 400 4MATIC Sport SUV, GLE 450 AMG 4MATIC Sport SUV, and the Mercedes-AMG GLE 63 4MATIC Sport SUV, priced from 868,000 yuan ($136,555) to 1,928,000 yuan.
The GLE Sport SUV is one of the first that is equipped 9g-TRoniC transmission in China market and it also offers customers superb Dynamic Select with 5 driving modes.
"The GLE Sport SUV represents the perfect fusion of the avant-garde design of a coupe with the athleticism of an SUV," said Duan Jianjun, executive vice-president at BMBS, responsible for sales and marketing.