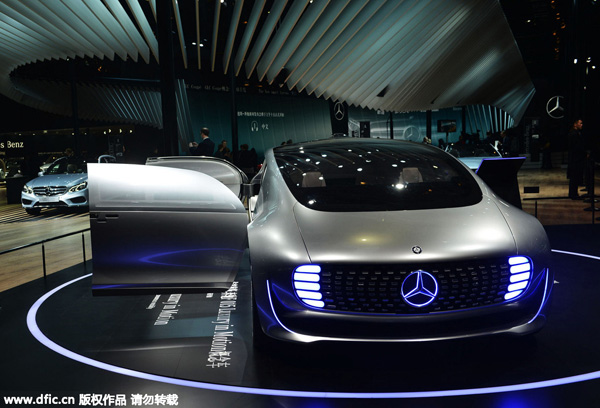 The Mercedes Benz F 015 concept vehcile is on display at Shanghai Auto Show, April 23, 2015. [Photo/IC] 
Sleek concept vehicle, unveiled in Shanghai, shows how close German auto giant is to realizing fully autonomous driving
At the media TecDay for the first International Consumer Electronics Show Asia, to be held in Shanghai from May 25 to 27, Mercedes-Benz showcased its ability to "rethink the car from scratch".
Following its show-stopping exhibit at the North American CES in January, the German auto giant shared on Sunday its latest achievements-such as its suite of Intelligent Drive systems and its telematics, culminating in the revolutionary autonomous F 015 Luxury in Motion concept car.
International CES Asia is the premier event for the consumer technology industry, showcasing a range of innovations from the Asian marketplace.
More than 400 visitors, including about 180 journalists, attended the Shanghai media day to get an up-close look at the F 015-from its lounge-like interior to its futuristic design.
"Our F 015 vehicle shows that we have the vision to rethink the car from scratch," said Hubertus Troska, member of the board of management of Daimler AG Greater China. "With autonomous driving and a revolutionary interior concept, the F 015 truly offers 'Luxury in Motion'-private space and quality time."
Mercedes' concept car is its response to global urbanization and people's growing desires to make living in a city easier and more relaxing. With the increasing amount of time the average city dweller spends in traffic, starting with the automobile is a natural choice, Troska said.
"When it comes to shaping future mobility, I have no doubt: Daimler has all it takes to be again at the forefront. We are the pioneers when it comes to developing mobility to the next stage: autonomous driving," he said. "Step-by-step, fully autonomous driving will become a reality and self-driving cars will be about much more than safety."
Though autonomous driving may still be years away, it has not stopped Mercedes-Benz from bringing the future of driving to today's roads. With its Intelligent Drive and connectivity systems, the carmaker is making its entire line of models safer, more comfortable and efficient.
In 1998, Mercedes-Benz included its Intelligent Drive system with its Distronic Plus adaptive cruise control in the S-Class. In 2013, it combined the S-Class with its Intelligent Drive technology to create the S 500 Intelligent Drive research vehicle.
Retracing the historic journey taken by Bertha Benz, an automotive pioneer and the wife and business partner of Carl Benz, the inventor of the car, the S 500 Intelligent Drive completed an autonomous drive in 2013 of roughly 100 kilometers through both urban and rural traffic in southwestern Germany. It was the first autonomous journey of its kind.