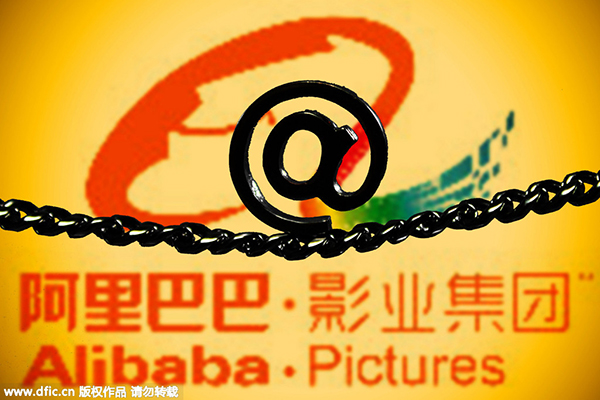 The Hong Kong-listed Alibaba Pictures will team up with Paramount in online ticketing, promotions and merchandising for Mission: Impossible-Rogue Nation in China. [Photo/IC] 
Cash-rich Alibaba Pictures Group Ltd made its first major move into Hollywood by investing in the next
Mission: Impossible
movie.
The film division of e-commerce giant Alibaba Group Holding Ltd has agreed to a deal with California-based Paramount Pictures to promote the Hollywood blockbuster in China, it said in a statement on Wednesday.
The Hong Kong-listed Alibaba Pictures will team up with Paramount in online ticketing, promotions and merchandising for Mission: Impossible-Rogue Nation in China.
No financial figures about the deal were released.
"Mission: Impossible-Rogue Nation is our first step toward internationalization and Alibaba Pictures looks forward to collaborating with more international movie studios," Zhang Qiang, CEO of Alibaba Pictures, said in a statement.
The film stars Tom Cruise and is due in theaters on July 31. One of Paramount's big box-office earners, the previous four films in the franchise grossed $2 billion worldwide.
Mission: Impossible-Rogue Nation is expected to be another smash hit for Paramount and at the same time increase the presence of Alibaba Pictures on the global stage.
Set up last year to tap into the digital entertainment industry, Alibaba Pictures has a team in California to look for investment and partnership opportunities.
This deal with Paramount is the latest move to cash in on China's movie boom, according to Huang Guofeng, an analyst at Internet consultancy Analysys International.
Teaming up with Hollywood movie studios is important for Chinese companies as they expand into the country's booming digital entertainment industry.
"Hollywood movies often get higher returns in China compared with domestic movies," Huang said. "By teaming up with Hollywood partners, Alibaba Pictures can be a key player in the future when China increases its quota on foreign movie imports."
China's quota system restricts foreign film imports to 34 a year. But the number is likely to increase further in 2017, according to industry insiders, when a new quota system is brought in.
Many of China's traditional filmmakers, such as Huayi Brothers Media Group and Bona Film Group, have been riding the going global wave. But this has not stopped China's powerful Internet companies from flexing their muscles in the film industry.
Huang said Alibaba Pictures may lack experience in making movies, but its online platforms can be used to promote and sell tickets online.
"Plus, it has enough cash to invest and buy new titles because it has a very rich parent company, which raised $25 billion in the world's largest initial public offering last year," he said. "Whatever it lacks, it can go out and buy."