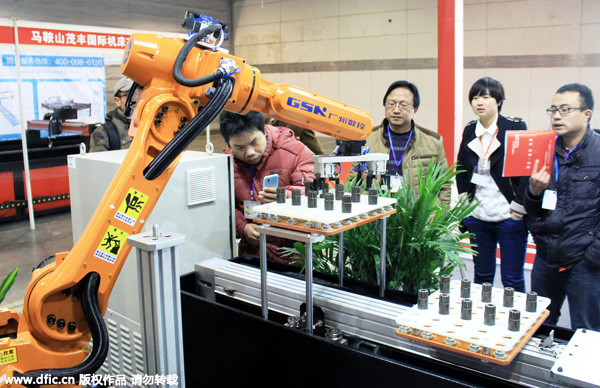 An industrial robot on display at an exhibition in Nanjing, Jiangsu province. [Photo/IC]
There will be fierce competition this year in the Chinese robotics market between foreign and domestic manufacturers, according to industry insiders.
"Big overseas robotics companies have all entered the Chinese market after years of development. Some have even moved their headquarters and production base here," said Qu Daokui, president of the Shenyang-based Siasun Robot& Automation Co Ltd, China's biggest and the world's thirdbiggest robotics company with a market value of 35.4 billion yuan ($5.7 billion).
"Chinese robotics companies have also seen rapid development in the past few years and have developed certain capacities, so naturally this year we will see fierce competition based on the laws of the market."
Qu was speaking at the 2015 China National Robotics Development Forum, held on April 13 in Beijing. The event was co-hosted by the Chinese Association of Automation and the China Association for Mechatronics Technology and Application.
Figures from the conference show that global industrial robot sales reached 225,000 in 2014, a rise of 27 percent from 2013. About 56,000 were sold in China, a growth of 58 percent from 2013.
China remains the world's biggest market for robots. Chinese companies made 16,000 of the 56,000 robots sold domestically. By the end of 2014, there were about 500 companies in the sector, with 90 percent focusing on component manufacturing and project application. Qu expects the number to increase to 800 by the end of this year.
As Chinese industries try to move up the value chain, robots are one way of boosting a country's manufacturing competitiveness.
Countries such as the United States and Germany are developing robots as part of their manufacturing strategy.
"China is in the 'new normal', advancing from being a manufacturing hub to becoming a manufacturing power. Robots, considered the jewel in the crown of the manufacturing industry, will be a leading power for intelligent manufacturing and the science and technology revolution," said Zheng Nanning, from the Chinese Academy of Engineering.
The integration of humans and robots will become a key feature of next-generation robotics, said Gu Chunyuan, chairman and president of ABB (China) Ltd.
He said in the 1970s people thought robots would probably replace workers. Then, in the 1990s, people thought robots and humans could coexist in the manufacturing industry because there were jobs that were unsuitable for humans.
"In the past five years, there have been some cases of robots collaborating with workers. But how robots can better cooperate with workers and how to make robots qualified workers on a production line, this is the latest trend but one that is also quite challenging for us," said Gu.
Another important aspect of developing robots is hiring people who understand the robotics industry, its safety, equipment and software requirements. As robots will be used in different industries-for example food and beverage-technicians should also understand that particular industry and combine both sets of knowledge.