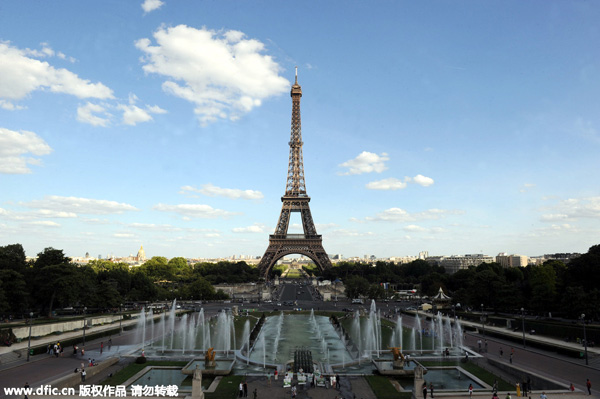 Paris, the capital city of France, received around 533,000 Chinese visitors last year. [Photo/IC]
Increased security touted as way of winning over reluctant Chinese tourists
Paris is hoping that Chinese tourists, scared away from the City of Light by the dark doings of its criminals, will reassess their views and begin flocking back to it.
Clement Laloux, marketing director of the Paris Convention and Visitors Bureau, said the city has stepped up security to curb crimes committed against Chinese tourists, and figures issued by police in November suggest those efforts have borne fruit.
Robberies committed against Chinese tourists fell 25 percent in the first nine months of last year, police say.
But whether that improvement is enough to get Chinese to once again fall for the romantic charms of France and its capital remains to be seen, particularly given that terrorist attacks in Paris have complicated the job of those trying to keep tourists coming to the country.
In March, the Chinese embassy in Paris issued a rare travel warning, urging Chinese visitors to stay off commuter trains that run between the city center and France's largest international airport following a spate of robberies.
Chinese visitors have been advised to use buses, taxis or other transport to travel between Paris' tourist zone and Charles de Gaulle International Airport 25 kilometers northeast of the city.
"Nothing is perfect, because there is no such thing as zero risk," Laloux says of the increased security measures.
The convention and visitors bureau said Paris welcomed around 533,000 Chinese visitors last year, making China the seventh-largest overseas source market for the city.
A security action plan that Paris unveiled last year included 26 measures to curb crimes targeting tourists. More police have been put on patrol and more officers have been sent to popular tourist sites such as the Louvre, Montmartre, Notre Dame and the Champs-Elysees.
A "Guide to Staying Safe in Paris", translated into Chinese, has been issued, advising tourists to carry a minimum of cash, favor small banknotes and watch out for gangs of teenagers who pick pockets while conducting phony petitions.
The police department's Chinese-language Web page has provided many crime-prevention tips, as well as the location of police stations and how to report a crime.
"In the central district, the main tourist area, tourists can file complaints directly in Chinese, because there are Chinese-speaking police," Laloux said.
The Chinese embassy says that since mid-February, at least four robberies have occurred on express trains linking the city and the airport, on which trains run almost 24 hours a day, with frequent departures, Hong Kong newspaper The Standard reported on March 19.