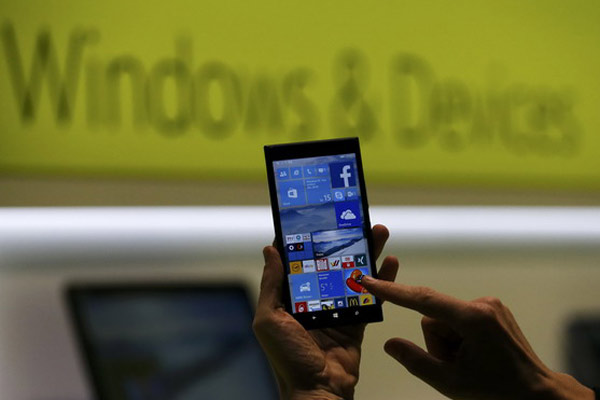 A Microsoft representative shows a smartphone with Windows 10 operating system at the CeBIT trade fair in Hanover March 15, 2015. [Photo / Agencies]
Microsoft Corp said on Wednesday that it has joined forces with Xiaomi Corp, making the soon-to-be-released Windows 10 operating system potentially available to millions of smartphones produced by the red-hot Chinese handset maker.
The Redmond, Washington-based software giant said that "a select group of Mi 4 power users" will be invited to test Windows 10 for its official release later this year. The Mi 4 is a flagship handset launched by Xiaomi in 2014.
The handset maker is an unlikely partner for Microsoft. It has been known as an Android phone producer that tailors Google Inc's mobile OS for Chinese customers.
"Xiaomi has a large number of enthusiastic fans in China, and we want to bring their ideas to our OS," said Xie Yutao, senior director of Microsoft's engineering operating systems group in China.
"We need to learn how Android users like to use their devices so we can convert them to Windows phone users."
He added the initial number of Xiaomi users testing Windows 10 will be fairly small. There have been no discussions regarding Xiaomi producing a Window-based device, he said.
Xiaomi has not commented on this subject. However, a person familiar with the deal said that the relationship is at an early stage and is unlikely to expand to more devices soon.
Nicole Peng, research director at consultancy Canalys China, said the partnership was "great news" for both companies, adding it "makes more sense for both parties in overseas markets than in the domestic market".
Microsoft is finding it tough to boost the Windows-based phone market share in China, which is the world's largest handset market.
Xiaomi was the top smartphone maker in China by shipments in the fourth quarter, dwarfing Apple Inc and Samsung Electronics Co Ltd, according to United States-based research firm International Data Corp.