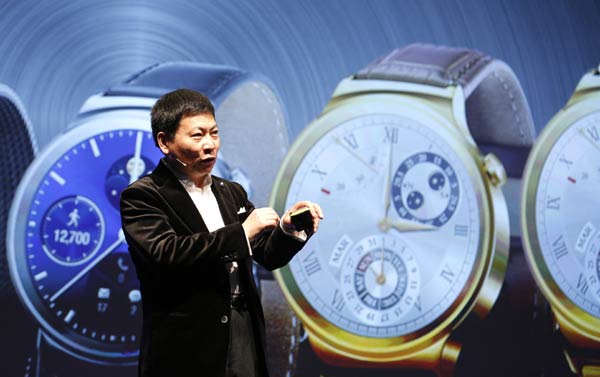 Richard Yu, chief executive of Huawei Consumer Business Group, presents the Huawei Watch in Barcelona, Spain, on March 1, 2015. Huawei launched its first smartwatch, a round-faced device that works with Android phones, at the Mobile World Congress.[Photo/Agencies]
'Sexy yet traditional' product will make consumers pay up, industry analysts say
Huawei Technologies Co Ltd's first smartwatch, which was introduced a week ahead of the Apple Watch, will be the strongest suit for the Chinese company as it battles with Apple Inc in the wearable market.
Although the Apple Watch is likely to grab the biggest slice of the global smartwatch sector, the Huawei product, which features a round dial with a more traditional appearance, also looks sexy enough to make buyers pay, analysts said on Monday.
Attending the Mobile World Congress in Barcelona, Spain, Richard Yu, chief executive officer of Huawei's consumer business group, said that the 42-millimeter-diameter watch, targeting high-end buyers, will be the world's first wearable with sapphire crystal glass.
The watch monitors the wearer's daily health, including footsteps and heart rates. It also shows instant short messages and call notifications on its ultra-high-resolution display.
Huawei, which is among the world's top five smartphone producers, also unveiled its second-generation smartband, a futuristic smartphone accessory.
The Guangdong-based company did not announce any price or release details for the watch, but a person familiar with the matter said that customers may get their hands on the device by summer.
The world's interest in smartwatches was ignited by Apple, which is likely to announce the price and date of availability of the gadget on March 9 in San Francisco.
The smartwatch will remain a fancy accessory to smartphones for quite some time, said Thomas Husson, an analyst at Forrester Research Inc.
"The speculation that Huawei's Android-powered smartwatch can operate independently from a smartphone is mostly irrelevant," Husson said. "In the next two to three years, smartphones will remain the hub of new connected experiences. Smartwatches will complement, not replace, smartphones."