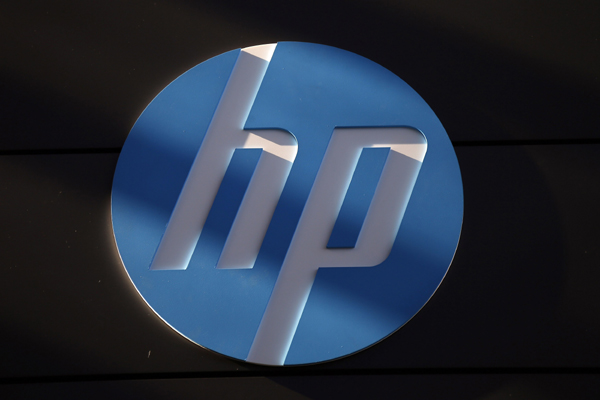 A Hewlett-Packard logo is seen at the company's Executive Briefing Center in Palo Alto, California in this file photo taken January 16, 2013. [Photo/Agencies]
The ongoing protests at a Hewlett-Packard Co subsidiary in Beijing and Hangzhou "will not cause any disruption to our customers or partners", the United States personal computer maker said on Tuesday.
"The management has met with these employees to understand the concerns of employees in protest," HP said.
Employees at communications equipment provider H3C Technologies Co Ltd staged a number of gatherings starting from the weekend in protest against the appointment of a new chairman.
According to pervious arrangement of HP, Mao Yu'nan, HP's chairman in China, will also head H3C's board of directors.
"As part of HP's commitment to continue to develop the H3C business in China, we recently announced some organizational changes that will enable us to drive the growth and diversification of H3C both in China and international markets," HP said in the statement.
Thousands of H3C employees launched a partial strike starting from Monday.
HP acknowledged the incident, saying "a small number of employees" expressed dissatisfaction with Mao's appointment.
But according to the organizers of the protest, more than 3,500 H3C employees have signed a petition to revoke the appointment as of Tuesday morning. The subsidiary has around 4,800 employees.
According to an employee from H3C, around a 100 partners have signed endorsements to back the protest. China Daily was able to acquireletters from five H3C's sales agencies in Guangdong and Zhejiang provinces. The letters expressed concerns of the incidents and showed sympathies to H3C employees.
HP relays on H3C in LAN switch and enterprise router markets. Many of the deals are related to government procurement projects, a sector overseas companies hind difficult to get presence.
H3C was a former joint venture of Huawei Technologies Co Ltd and 3Com Corp. It became a HP asset in 2010 after the US company acquired 3Com for around $2.7 billion.