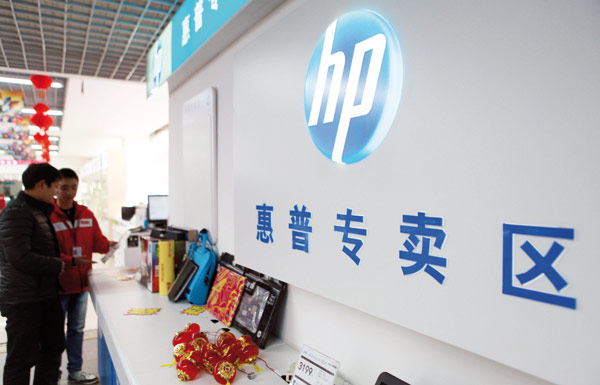 HP consumer products at a department store in Jiujiang,
Jiangxi
province. [Photo / Provided to China Daily]
The consumer business of Hewlett-Packard Co in China is on track to challenge local giant Lenovo Group Ltd, as the United States-based company is building sales and releasing new products in smaller cities, company executives said on Tuesday.
"More than 60 percent of the demand resides in fourth- to sixth-tier cities. HP only derives about 40 percent of its revenue from small Chinese cities, so we must change the situation to boost our growth," said Yi Xiaohui, HP's senior vice-president and China head of printing and personal systems business.
"Portable devices will become the next profit generator for HP, and we are set to release more products to satisfy market demand," according to Yi.
The world's largest personal computer vendor is betting on China for growth as the global PC industry fades.
Sluggish demand in China contributed "heavily" to a record 12.7 percent year-on-year decline in the Asia-Pacific region during the first three months of this year, said IDC. It was the first double-digit slump the region had experienced.
Although HP remains the world's top PC maker, the industry leader in China is Lenovo, a local brand with a strong edge in sales channels. According to Yi, the industry uncertainty also offers an opportunity for HP as the major competitor for Lenovo in the country.
So far this year, the company has released a dozen new consumer PC products in China, including laptops and tablets. The move is a clear signal that HP is shortening its launch cycle to catch up with industry leaders.
"HP is changing its attitude toward emerging demand such as deformable laptops because we do not want to miss another growth opportunity," said Yi.
Nicole Peng, research director of Canalys China, said this is the way to go for HP as it digs deep in lower-tiered cities for growth.
"The smaller Chinese cities are critically important for vendors who are ready to commit to the China market in the long term, as the market is large and there is a lot of potential that has yet to be explored," she said.
Lenovo, the world's second-largest maker of PCs, is currently the strongest player in lower-tier cities, where the vendor has "extensive" retail networks and consumer awareness built up over many years.
PC penetration in small Chinese cities may take a long time to develop because of lower disposable incomes and poorer Internet coverage compared with large cities, said Peng.
"People in the lower-tier cities tend to go for smartphones as their first Internet devices, not tablets or notebooks, even the higher-priced ultrabooks."