Smartphone maker Nubia plans plant in Jiangxi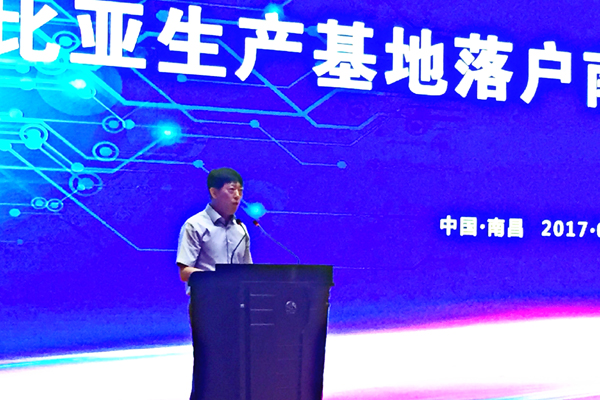 Nubia's President Li Qiang delivers a speech at a news conference announcing the company's manufacturing base in Nanchang, Aug 9, 2017.[Photo by Tan Xinyu / chinadaily.com.cn]
Chinese smartphone maker Nubia will build a manufacturing base with yearly capacity of 10 million intelligent terminals through registering another firm in Nanchang, capital of East China's Jiangxi province.
Nubia's President Li Qiang made the remakes in a news conference Wednesday. He said the base's annual revenue is expected to reach 10 billion yuan ($1.49 billion).
The decision also helps Nubia to improve supply delivery and expand its operations, said Cheng Lixin, senior vice-president of ZTE Corporation, at the conference.
As a premium smartphone brand of ZTE,Nubia was founded in October 2012 and ran as ZTE's subsidiary in 2015, with a goal of becoming one of the global household names.
According to a filing to the Hong Kong Stock Exchange on July 27, ZTE announced to sell 10.1 percent of its equity interest in Nubia Technology limited for 727 million yuan, reducing its stake from 60 percent to 49.9 percent upon completion.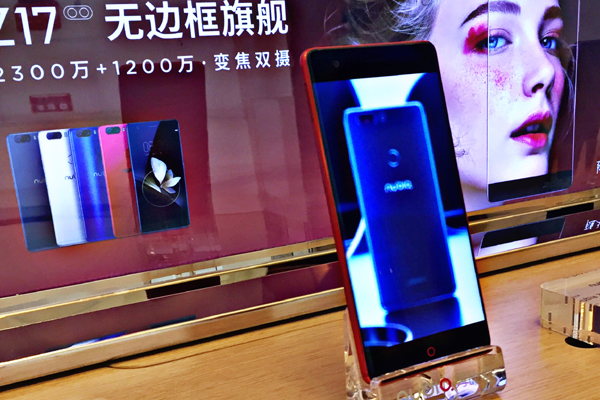 Nubia's mobile phones are on display at a news conference announcing the company's manufacturing base in Nanchang, Aug 9, 2017. [Photo by Tan Xinyu / chinadaily.com.cn]
Given ZTE's shareholding ratio below 50 percent then, Nubia will no longer be reported in its consolidated financial statements, though ZTE is still the largest shareholder of Nubia.
At the same time, the result also indicates that Nubia's value has risen to 7.2 billion yuan from 5.8 billion yuan at the end of 2015, when a holding company of Suning Holdings Group invested1.93 billion yuan in the Capital Increase of Nubia to subscribe for its 33.33 percent equity interests.
As to the transaction, Nanchang Gaoxin New Industry Investment Co Ltd is the purchaser. Information from National Enterprise Credit Information Publicity System shows that the company was founded in November 2016 and a wholly owned corporation of Nanchang Industrial Holdings Group has invested 100 million yuan in it.
The group is a State-owned enterprise managing capital investment operations, with registered assets of 771 million yuan. At the end of 2016, its total assets had reached 42 billion yuan while net assets were 28 billion yuan.
Since companies in the mobile chain, such as O-film and Huaqin, have extended business in Nanchang, Nubia's base there is bound to improve the chain, said Liu Dehui, an official of Nanchang government.
Tan Xinyu in Nanchang contributed to this story.