Regulator sifts more IPO applications on quality ground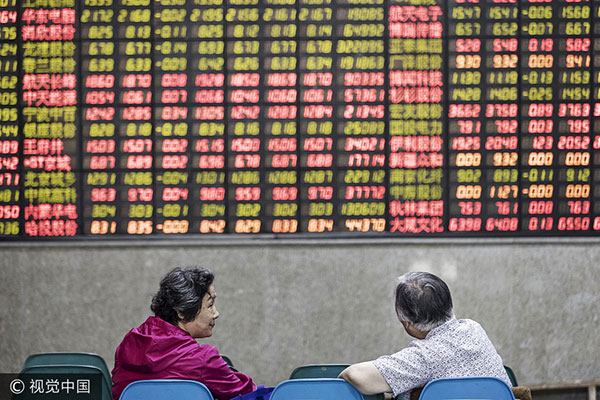 Investors sit in front of an electronic stock board at a securities brokerage in Shanghai, June 9, 2017. [Photo/VCG]
The Chinese securities watchdog rejected 43 of 329 companies' applications for initial public offerings (IPO) in the first seven months of the year, sending the veto rate to 13.07 percent from last year's 2.21 percent, China Securities Journal quoted statistics as saying.
Analysts said the committee of China Securities Regulatory Commission (CSRC) which oversees new offerings, is more focused on specific conditions of different applicants.
China's top securities regulator has become stricter on the quality of queuing applicants along with a bid to normalize IPO proceeds to better serve the real economy, said Pan Xiangdong, chief economist with New Times Securities told the newspaper
The A-share market was known with the occasional IPO hiatus in the time of volatility and short liquidity.
This echoes the view of Chen Li, research head of Chuancai Securities, who said the fact that 15 companies were dismissed by the CSRC among the total 95 applicants in the past two months since June, equal to a veto rate of 15.79 percent, indicates a tightened rather than lax regulation.
"The authenticity and adequacy of information disclosure is paid great attention in recent examining process," Pan said.
Under the current IPO system, new shares are subject to approval from the CSRC. And China is seeking to turn from an approval-based IPO system to a more market-oriented system based on registration.
At the two-day National Financial Work Conference early in July, President Xi Jinping said that developing direct financing will be prioritized while indirect financing structure should be optimized by accelerating strategic transformation of state-owned major banks and developing small and medium-sized banks and private financial institutions.
Promoting direct financing aims to improve financing efficiency so as to support the real economy, said Tian Lihui, dean of the Nankai University Institute of Finance and Development, adding that IPO is an important means for direct financing, but should not be equal to the latter.
Tan Xinyu contributed to this story.