CEO bets on Chinese firms' need for information storage solutions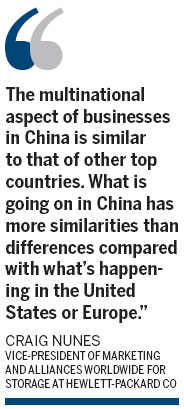 As China rose to become the biggest PC market in the world, Hewlett-Packard Co looked away from its "family business".
In mid-2013, company CEO Meg Whitman told its Chinese partners the country holds the key to HP's revival.
The company believes the demand for information technologies among Chinese companies will help lift HP in the post-PC era.The hardware sector, specifically printers, is what most industry analysts are optimistic about.
Although facing a strong challenge from Japanese brands, HP aims to at least double its growth in the Chinese all-in-one printer market in 2014, said Jin Weidong, vice-president of HP China.
As opposed to Lenovo Group Ltd and Taiwan-based Acer Inc, which seem interested only in hardware manufacturing, HP is expanding into multiple industries.
Last year, China's emerging cloud-computing demand got HP's attention, and the US company became eager to get its foot in the door of this profitable industry.
"The multinational aspect of businesses in China is similar to that of other top countries," said Craig Nunes, vice-president of marketing and alliances worldwide for storage at HP.
"What is going on in China has more similarities than differences compared with what's happening in the United States or Europe," Nunes said.
China leads the world in cloud-based services for smart cities and mobile Internet, according to Gao Xinmin, vice-president of the Internet Society of China.
Beijing-based think tank CCW Research has estimated that by 2015, China will have spent 57.7 billion yuan ($9.5 billion) on cloud-computing facilities. Global cloud providers, such as Amazon.com Inc, Google Inc and Microsoft Corp, are all eyeing the Chinese market while actively looking for local partners, since cloud services with only foreign funding are not allowed to operate on the Chinese mainland.
HP mainly focuses on building enterprise data centers in China, where it is bidding to provide end-to-end data storage and analytic solutions for its customers.
According to Nunes, localizing services and translating its products into Chinese is the biggest obstacle for the arm's development in the country.
HP is relying on local executives who have extensive knowledge of the Chinese market, Nunes said.
Setting up joint ventures and outsourcing installation to local manufacturers are other top ways to build business in China, according to Huang Qiang, general manager of HP Storage in China.
China's surging Internet industry will need the centers for its cloud-based services.
"Whitman made it clear that HP will continue to invest in China and utilize Chinese manufacturing power to serve increasing demand, and that's what we're doing this year," Huang said.