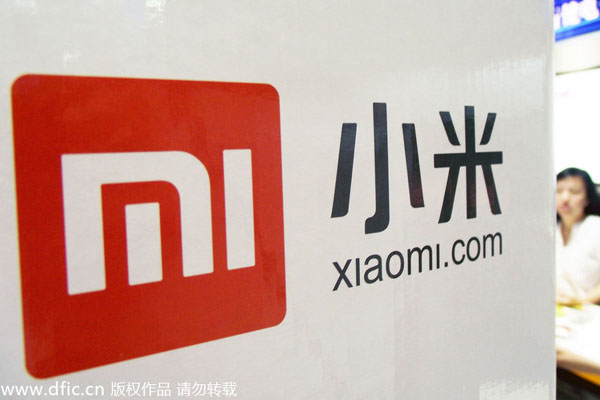 A Chinese employee is seen at the stand of Xiaomi during a fair in Nanjing city, East China's Jiangsu province, June 26 2014. [Photo/IC]
Filings show handset maker posted profit far below media expectations
Smartphone maker Xiaomi Corp does not appear to be as profitable as expected, a regulatory filing said on Monday.
The Beijing-based, currently private firm, posted a net profit of just 347.48 million yuan ($56 million) in 2013, 10 percent of what the media had earlier reported.
The results were included in disclosures made to the Shenzhen Stock Exchange after Xiaomi announced a 1.27 billion yuan investment in Midea Group Co Ltd, a publicly traded home appliance company based in Guangdong province.
It was the first time that Xiaomi's financial status was available in the public domain and comes just as the 4-year-old company gets ready to be the biggest smartphone vendor in China.
The filing also disclosed that Lei Jun, chairman and chief executive of Xiaomi, holds 77.8 percent of the company and unnamed shareholders the balance.
The result was not even close to the staggering 3.46 billion yuan profit that the Wall Street Journal reported in November. The newspaper attributed the result to a confidential bank document. Analysts believe the Wall Street Journal may have backfired in its report by mistakenly enlarging the figure by 10 times.
Bryan Wang, principal analyst and country manger at Forrester Research Inc, said he was not surprised that Xiaomi reported such a small profit.
"Xiaomi's margins were too thin and there is no way that it can stay profitable in the years ahead," Wang said.
"The company is banking on the 'smart home' strategy in the coming years. But the business model for the entire cloud sector is such that no one knows exactly how to make money in the short run. If Xiaomi wants to sell its services to lift profit margins, it has to contend with the fact that Chinese customers are far from ready to pay for such services/products," he said.
Xiaomi's less than 2 percent operating margins lag Apple Inc and Samsung Electronics Co, both of which enjoyed margins of above 20 percent during the same period.
Patent problems are another issue that could hurt smartphone sales outside China. Handset sales in India, the most important overseas market for Xiaomi, were banned by a local court because of a patent dispute with Swedish telecom equipment maker Ericsson AB a week ago.
Wang estimated that heavy licensing charges will dent Xiaomi's overseas business further in 2015.
However, it does have an advantage due to its high volume of smartphone shipments. With the 17.3 million smartphone units it shipped during the third quarter, Xiaomi is now the third-largest vendor in the world after Samsung and Apple, according to research firm IDC.
What the company is really trying to do is to build a complete ecosystem in Chinese families' living rooms.
Lei, the CEO, has pledged to invest 1 billion yuan to beef up online video content resources on Xiaomi's television platform.
The partnership with Midea, a leading air conditioner and refrigerator manufacturer, will help Xiaomi break into the household appliance sector.
Xu Hao, an analyst from Analysys International, said Xiaomi is attempting to gain an upper hand in a new sector by using its customer base.
"The company may have greater advantages when more electronic devices are connected by the Internet in the future," he said.