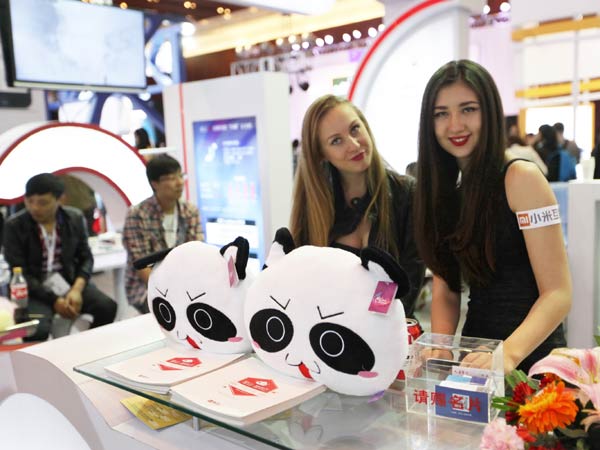 The Xiaomi Corp stand at an Internet exhibition in Beijing. The company is looking to build a stronger software ecosystem to compete against Apple Inc and Samsung Electronics Co. [Photo/CHINA DAILY]
Move expected to help put more mobile services on smartphones, analysts forecast
Chinese billionaire Lei Jun finally has found a major cloud service provider for Xiaomi Corp, the fast-growing smartphone startup he founded nearly five years ago.
Xiaomi and software company Kingsoft Co Ltd, both co-founded by Lei, on Wednesday said that they would invest $222 million in 21Vianet Group Inc, the largest carrier-neutral Internet data center service provider in China.
Kingsoft will take an 11.6 percent stake in 21Vianet as a result of the transaction, while Xiaomi will take 3.4 percent.
Temasek Holdings, a Singapore government investment firm, also agreed to inject $74 million into 21Vianet.
Teaming up with a major local cloud computing provider will enable Lei to put more mobile services on smartphones made by Xiaomi and software products developed by Kingsoft.
The 44-year-old entrepreneur/investor has promised to invest $1 billion in cloud businesses over the next three to five years. Kingsoft, well-known for its business software and online gaming rollouts, will also employ a new strategy focusing on cloud services.
"The 21Vianet investment is one of the key steps in Kingsoft's cloud strategy for the next three years," said Lei, who serves as chairman of Kingsoft. "We believe that cloud services will be the critical breakthrough for the company."
Although he did not announce any specific details of the cooperation between Xiaomi and 21Vianet, the industry is anticipating that the Beijing-based handset maker will launch more cloud-based services for its customers.
Shang Hsiao, chief financial officer of 21Vianet, said working with Xiaomi not only boosts the company's data center business but also helps it fuel the growth of mobile Internet traffic.
Xiaomi is the second-largest smartphone vendor in China by shipments at present, closely following South Korea-based Samsung Electronics Co, said local research company Analysys International.
According to IDC, strong sales on the Chinese mainland pushed Xiaomi into third place among smartphone makers worldwide after Samsung and Apple Inc in the third quarter.
The Chinese company has rolled out more than 17 million handsets in that quarter, most of which were sold in China.
The company is looking to build a stronger software ecosystem to compete against Apple and Lenovo. About a month ago, Lei pledged to invest $1 billion to build a video content development business from scratch. The company also launched a free cloud storage service less than two years ago. It supports basic mobile services similar to Apple's iCloud.
Better cloud and content services are set to power the company's hardware sales in the years ahead.
Yu Yang, chief executive officer of Analysys International, said stronger cloud capability is one of the most critical steps for Xiaomi to beat Samsung and Apple.
"Xiaomi is trying to sell a digital lifestyle in China. It is uncertain if customers will buy Lei's concepts, but if they do, Xiaomi will be more successful than Apple," Yu said.