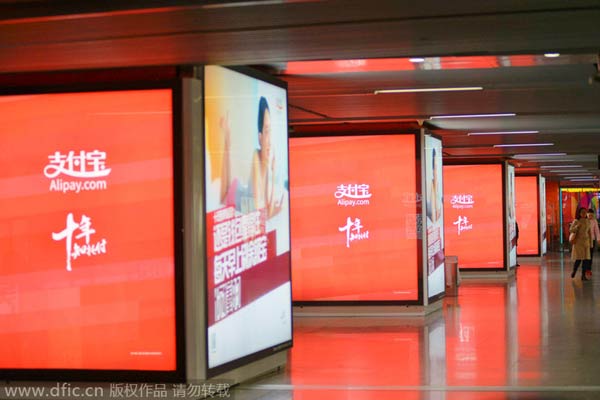 Advertisements for Alipay mobile payment services of Alibaba Group are pictured in Shanghai, Dec 8, 2014. [Photo/IC]
Dec 8, 2014 is the tenth birthday of Alipay (the online payment platform developed by Alibaba). Since that day, users have been able not only to check their yearly bill, but also the total bill since they registered.
"I am shot in the heart!" "A true hero has the nerve to face his ten-year bill." "The bill is too beautiful to be seen."—shopaholics exclaimed on social networks.
In the past ten years, more than 300 million Alipay real name users have made 42.3 billion payments, which also reflects the changes in Chinese spending habits and lifestyle.    
Ordinary people's online payments are in direct proportion to local economic strength. At the provincial level, Guangdong, Zhejiang, Shanghai, Beijing, and Jiangsu are the top five, with total payments accounting for 15.5 percent, 12.5 percent, 9.3 percent, 9 percent and 8.8 percent of the national total respectively.
However, some other data are surprising. Netizens in some middle or small sized cities and villages have very high levels of purchase. In 2014, the per capita online spending totals for Hangzhou, Jinhua and Huangshan were 44,197 yuan, 39,965 yuan and 39,029 yuan respectively. And at county level, the per capita online spending of 66 counties has already exceeded 20,000 yuan in 2014. The fact shows that along with growing incomes, the spending power of the Chinese public has developed rapidly, and their requirements are more individualized and diversified.
In 2014, per capita online transactions in Beijing are 33,562 yuan, of which only 15,382 yuan is used for online shopping, accounting for 45.8 percent. The residue includes items like account transfers, money management, paying public services and utilities fees, etc.
According to the Alipay data, from 2004 to 2014, a total of 6 billion transactions involved paying for public services and utilities, credit card bills and account transfers, and other convenience payments.
People's lives have become more convenient, and new spending habits have developed. In 2008, when Alipay just launched the function of making public services and facilities payments online, each user only made 2.17 times of payments averagely; while in 2014, the average payments made by each user are 5.96 times.