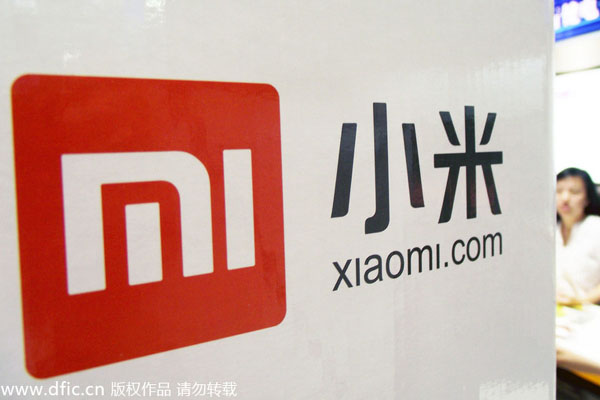 A Chinese employee is seen at the stand of Xiaomi during a fair in Nanjing city, East China's Jiangsu province, June 28, 2014. [Photo/IC] 
Xiaomi Corp, the privately owned Chinese electronics company, and other Chinese firms have joined in a $40 million investment in the United States technology startup Misfit.
It is the first time that Xiaomi, the world's third-biggest smartphone manufacturer, has taken a stake in a US mobile-device maker.
Misfit, which claims to make the biggest-selling activity and sleep tracker in China, said on Tuesday it had raised new financing from Xiaomi, e-commerce company JD.com Inc and venture-capital firms GGV Capital and Shunwei.
GGV partner Hans Tung will join Misfit's board of directors. Shunwei partner Tuck Koh will become a board observer. Both are Xiaomi investors.
Misfit, best known for its activity tracker Shine, is the latest startup to gravitate toward Xiaomi, which has been seeking to build a hardware ecosystem that extends beyond its smartphones and into wearable technology and home appliances.
Xiaomi has built ties with a litany of Chinese gadget makers through investments or strategic partnerships. But the deal with Misfit would be the first instance of the company investing in a US-based wearables company as it pursues its ambition of becoming a global brand like Apple Inc.
The relatively small size of the investment could reflect the wariness with which Chinese companies approach US acquisitions.
From Alibaba Group Holding Ltd to Huawei Technologies Co Ltd, many of the largest Chinese tech companies have expressed caution about provoking anti-Chinese sentiment in the US through flashy deals, though Lenovo Group Ltd has been successful in carrying out multi-billion-dollar buyouts.
Four-year-old Xiaomi has become one of the world's largest smartphone manufacturers by dint of cheaper but critically acclaimed devices modeled on those of Apple. It now sports the $13 Mi wristband, while Chief Executive Lei Jun has promised a full lineup of wearables.
The Misfit investment comes just a few months before Apple's smartwatch is expected to hit the Chinese market.
The wearable graced the cover of Vogue China last month, a move regarded as highly strategic given the growing purchasing power of female luxury consumers in China.
Led by Chief Executive Sonny Vu, Misfit is based in Daly City, California, but has a data science team in Vietnam. Its early investor and adviser John Sculley is Apple's former chief executive officer.
A Xiaomi spokeswoman declined to comment. JD, GGV Capital and Shunwei could not be reached for comment.