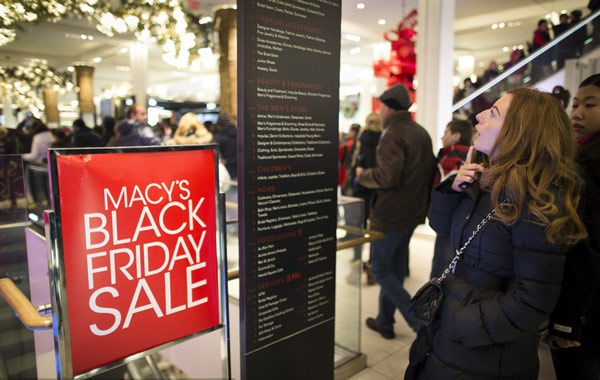 A shopper reads a store layout board at the Macy's Herald Square flagship store, Thursday, Nov 28, 2013, in New York.[Photo/IC]
The growth of China's middle class and the development and expansion of cross-border e-commerce is making the upcoming US holiday sales season look like another online shopping extravaganza, similar to China's Singles Day.
Single's Day, the brainchild of Alibaba has helped the company clear $9.34 billion in sales volume this past Nov 11. Coupled with the record breaking US IPO, Alibaba CEO Jack Ma has shown that the world is now "flat" thanks to online shopping.
China's e-commerce sector has attracted global attention for its sheer size and huge market potential. Its online retail volume increased by 41 percent year-on-year to 1.85 trillion yuan ($301.5 billion) in 2013, making China the world's largest e-retailing market, according to the Ministry of Commerce.
In May, the State Council issued a guideline that promised measures to facilitate cross-border e-commerce transactions.
"With an estimated trade value of more than 100 billion yuan in 2014 from overseas products, we have reason to believe that the huge potential of this market will further expand China's e-commerce capabilities in the future," said Patrick Dodd, Managing Director of Nielsen China.
According to a recent report titled "China sees more sophisticated online shoppers", the US-based global information and measurement company said that not only has e-commerce changed China's retail landscape, but it has also given birth to new shopping behaviors among more Internet-dependent consumers, such as the purchase of overseas products online.
The report found nearly 40 percent of online shoppers are between the ages of 26 and 30, with 60 percent claiming a household income of more than 11,000 yuan each month. Compared to men, women show more enthusiasm for buying overseas products online as they make up 57 percent of these consumers.
Amazon versus Alibaba
As a promising market with to-be-developed potential for influential competitors in the sector, Amazon China and Alibaba have both started to strategic move.
As Black Friday and Cyber Monday draw closer, promotional pages for purchasing overseas products have appeared on Amazon.cn and its rival G.taobao.com, an online shopping site affiliated with Alibaba's e-commerce platform taobao.com,
Amazon China's strategy appears to be creating "a festival for overseas online shopping". It's an extension of the US company's international strategy. There are about 800,000 items sold on Amazon China's dedicated website for overseas shopping, with its categories ranging from garments, shoes, makeup to health care and sports.
The site will offer up to 70 percent off for about 35,000 products from 9 am to 4 pm on Friday, 6,000 of which will be exclusive to Amazon.cn.
The company has also set up an alliance with China Merchants Bank. Customers who check out using the bank's credit cards will also get free shipping on their first international order.
Alibaba has chosen to take a different approach by focusing on its payment system Alipay. The payment system is more dominant and makes it easier for the tech behemoth to make profits than stepping directly into a global market.
Alipay launched a "direct purchase" service for customers shopping on overseas websites, one week after Single's Day.