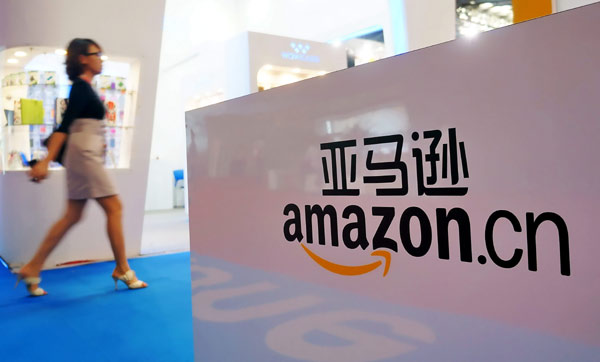 An Amazon banner displays at an electronic exhibition on June 28, 2012 in Shanghai. [Jing Wei / Asianewsphoto]
E-commerce retailers here in China are looking to cut into a traditional American shopping bonanza this week.
Black Friday, which falls the day after Thanksgiving Day, is one of the busiest shopping days of the year in the United States.
E-commerce giant Amazon.cn has announced its launching, for the first time, a 'Black Friday' overseas shopping window for Chinese consumers on Friday and Saturday.
During those two days, domestic consumers in China will be able to access some 35-thousand products with discounts of some 30-percent.
Niu Yinghua is the vice head of Amazon.cn.
"Black Friday mode will be launched at 4pm. The sales promotion will start at midnight on Friday in the United States. This year we are allowing all consumers around the world get preferential deals at the same time, and buy the goods with the same quality and price. The goods will be sold based on their prices in the US or even cheaper."
At the same time, Chinese e-commerce giant Alibaba is launching an 'overseas direct purchasing' service as part of 'Black Friday.'
The one-stop Haitao service, which covers all costs of buying overseas products on-line, will be covering four US retail giants, namely Macy's, Bloomingdale's, Saks Fifth Avenue and Neiman Marcus.
Shen Yunfang is the PR manager of Alipay.
"The users will be able to directly log into the platform of the US merchants we cooperate with through Alipay without registering. They will be able to pay their bill through just Alipay, as we've made the RMB good for settling accounts. It'll be much more convenient."
The goods purchased via Alipay on Black Friday will be mailed directly to China, so no freight agencies will be needed, meaning it will save more time.
It's this element of the service which seems to be appealing the most to Chinese consumers.
"Through a freight agency to purchase on Haitao is very slow and tricky. So the direct mail should be a better choice. And the discounts seem very attractive."
"If I find something I need on the list, and the price is much lower in the US than in China, I may try the service."
Black Friday has become second only to Singles' Day on Nov 11 here in China as a major retailing event in the country.