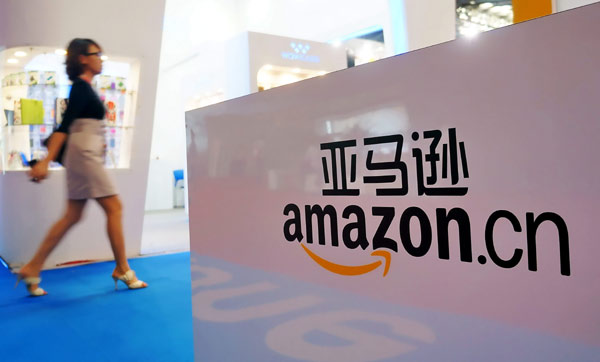 An Amazon banner displays at an electronic exhibition on June 28, 2012 in Shanghai. [Jing Wei / Asianewsphoto]
US e-commerce giant Amazon.com Inc seems ready to capitalize on the massive purchasing power of Chinese customers, as it kicked off a planned foray into the China (Shanghai) Pilot Free Trade Zone, where innovative policies are expected to boost cross-border online trade.
A memorandum of understanding was signed between Amazon and the Shanghai FTZ on Monday, under which Amazon will open its new cross-border e-commerce platform in the free trade zone.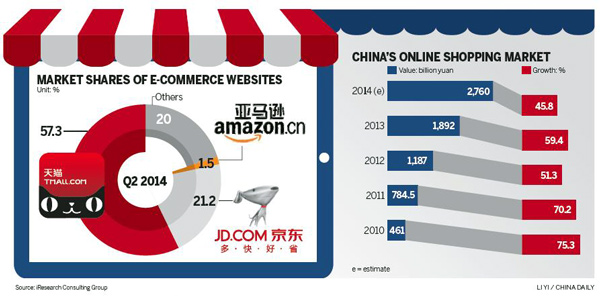 Amazon also will establish a logistics and warehouse center in the FTZ, whereby imported goods will enter China via the zone's cross-border e-commerce platform. Similarly, products from small and medium-sized enterprises in China can be sold to Amazon customers across the globe.
The signing ceremony was witnessed by Shanghai Vice-Mayor Ai Baojun, who is also the head of the FTZ management committee, and Diego Piacentini, senior vice-president of Amazon International.
"China's e-commerce market is one of the most dynamic in the world with tremendous potential," Piacentini said. "We just celebrated our 10th anniversary and believe it is still Day One for us, particularly in the areas of cross-border e-commerce, both into and out of China."
Amazon's Chinese website offers 25 million selections across 32 categories. The company has opened 13 fulfillment centers, enabling the products to be delivered to about 3,000 cities and counties in China with 146 cities eligible for same-day or next-day delivery.
According to iResearch Consulting Group, Amazon accounted for only 2 percent of China's total online business-to-consumer market in 2013, which put it in fifth place. Alibaba Group Holding Ltd dominated the market with a 57.7 percent market share, followed by JD.com Inc and Suning Commerce Group Co Ltd.
Alibaba in February launched an independent website called Tmall Global, which allows overseas brands to sell their products directly to China's increasingly wealthy but picky online shoppers.
Lin Wenbin, an analyst with IT consultancy Analysys International, said Amazon enjoys a unique advantage to do cross-border e-commerce in China as the US giant is truly a multinational company running different online platforms in different countries.
"Most Chinese e-commerce companies are still domestically focused. But Amazon, having business operations in many different countries, has suppliers across the globe," Lin said, adding that Amazon's well-established suppliers and business partners can give its cross-border e-commerce business in China a strong push.
He said that a series of campaigns Amazon promoted are meant to assure customers and vendors that their imported goods are genuine and they have a legitimate and convenient channel to facilitate cross-border e-commerce.
According to Analysys International, the total transactions of China's cross-border e-commerce reached 2.7 trillion yuan ($439 billion) in 2013, of which exports accounted for 2.4 trillion yuan. Analysts said that with the growing appetite of Chinese online buyers, imports are expected to grow.
But Amazon may not be able to boost its China business immediately.
Lu Zhenwang, an independent Internet expert and CEO of Shanghai-based Wanqing Consultancy, said while the FTZ offers some preferential policies in cross-border e-commerce, it is unknown how much tax will be collected on those imported products.
"If the imposed tax is considerable, shoppers will not see a big price difference between online stores and brick-and-mortar stores. So there is no point for them to buy foreign products online," he said.
But Amazon remains confident.
"I look forward to working with our Shanghai partners to realize the incredible opportunity of developing the best cross-border shopping experience possible for not only customers in China but also around the world, and establishing Shanghai as a recognized international cross-border e-commerce center," Piacentini said.
Wang Peng, CEO of easipay, a website responsible for running the cross-border e-commerce platform in the FTZ, said the platform will be ready to roll by the fourth quarter of this year.