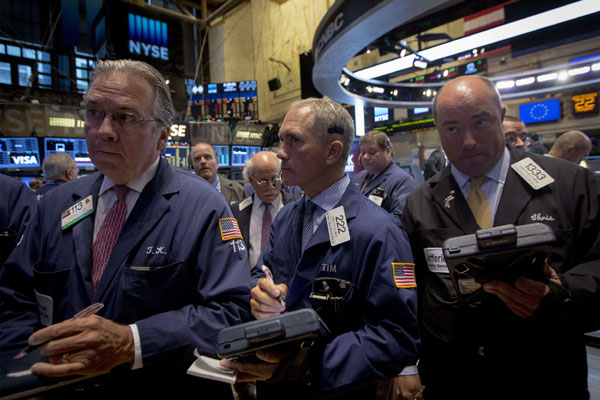 Traders gather at the post where Alibaba Group Holding Ltd is traded on the floor of the New York Stock Exchange September 22, 2014. [Photo/Reuters]
Short sellers are making their first bets on a retreat in Alibaba Group Holding Ltd a week after the company priced the world's biggest-ever initial public offering.
Bears who profit from price declines have sold short 8.9 million shares, or about 2.4 percent of Alibaba's listed stock, according to data compiled by Bloomberg and Markit, a London-based provider of financial information.
The Hangzhou-based company, China's biggest e-commerce operator, sold 368.1 million shares in the IPO.
"Out of the gate we see high demand to borrow shares of Alibaba," Andrew Laird, a New York-based product specialist at Markit, said in an e-mailed response to questions. "This is a relatively small amount compared to the total shares outstanding but still significant considering the limited supply that is available to borrow following an IPO."
Demand from investors seeking exposure to China's e - commerce industry allowed the company to raise $25 billion, surpassing the previous IPO record held by Agricultural Bank of China Ltd's $22.1 billion sale in 2010.
The stock fell on three out of four days this week after rallying 38 percent on its first trading day, the biggest price increase for a new stock offering of at least $10 billion, data compiled by Bloomberg show.
The interest rate for borrowing shares of Alibaba, or indicative fee, was 8 percent on Wednesday, according to Markit, compared with an average rate of less than 0.5 percent for members of the Standard & Poor's 500 index. Tapping securities on loan is the first step in a short sale, where a bearish trader borrows a stock and sells it, hoping to profit by replacing it at a lower price.
"Investors are willing to pay handsomely to gain short exposure," Laird said.
Alibaba declined to comment on the short selling in an e-mailed statement.
Prior to Alibaba's IPO, four of the five largest companies to list on US exchanges - including General Motors Co and Facebook Inc - plunged more than 17 percent in the year after going public. The exception, Visa Inc, soared 28 percent raising $19.7 billion in 2007.
Alibaba is trading at about 34 times estimated earnings for the next 12 months, according to analyst projections compiled by Bloomberg.
The Bloomberg China-US Equity Index has a multiple of 17, while Alibaba's e-commerce competitors Vipshop Holdings Ltd and Jumei International Holding Ltd trade at multiples of 46 and 27, respectively.
A gauge of seven China-listed companies that either sold stakes to Alibaba or have partnerships with the e-commerce business rose 1.4 percent to the highest level since May 2008, while the Shanghai Composite Index rose 0.1 percent at the close on Friday.