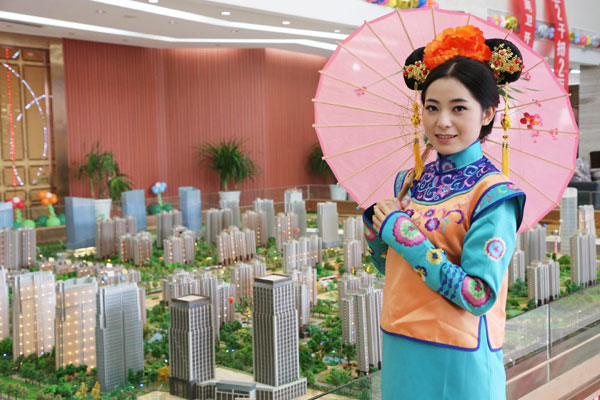 A saleswoman dressed in Qing Dynasty (1644-1911) Manchurian costume promotes a real estate project in Xuchang, Central China's Henan province. Developers across the country have used creative marketing schemes to grapple with continuous downturn. [Geng Guoqing / China Daily]
Tough times for China's developers are creating a showcase for marketing experts, whose creative and sometimes downright bizarre ideas are desperately wanted by property companies grappling with continuous downturn.
September, a traditional high season for home sales in China, was largely a bust.
The latest example of creative marketing came from Country Garden Holdings Co Ltd. People who buy apartments at the company's projects in Guangzhou, Guangdong province, can go to its sales centers and spend 1 yuan (16 cents) to buy a coupon with a face value of 10,000 yuan.
Owners of units in the company's ordinary villa projects can buy up to 10 coupons and get 100,000 yuan in discounts. Owners of luxury villas can get a maximum of 500,000 yuan in discounts.
Poly Real Estate Group Co Ltd came up with a more offbeat approach. Within a short fixed period, dieters can get a 10,000 yuan discount for every kilogram they lose.
And in a marketing campaign in Nanjing, Jiangsu province, RiseSun Co Ltd is encouraging potential buyers to join a jumping contest. The distance they jump is translated into a corresponding discount.
In another project, people who are able to write obscure, complicated Chinese characters are awarded certain discounts.
Some developers have played up the concept of Internet finance, a buzzword in China, promoting sales through digital channels.
Last month, China Vanke Co, the country's biggest developer by sales, teamed up with Alibaba Group Holding Ltd to offer discounts to home buyers who also shopped on the company's Taobao marketplace.
A home sales manager who declined to be identified said that the competition had become so intense and fast-evolving that offering buyers free parking spaces or interior decoration services were regarded as outdated practices. Marketing staff have to come up with fresh tactics.
Cars and pretty women are hardly new selling points, but they still work. Luxury car shows, lingerie shows and bikini shows are still effective in attracting customers, industry insiders said.
Behind the desperation is the lackluster market. In the first 21 days of September, home sales in 54 cities monitored by Centaline Property Agency Ltd barely increased from the same period in August.