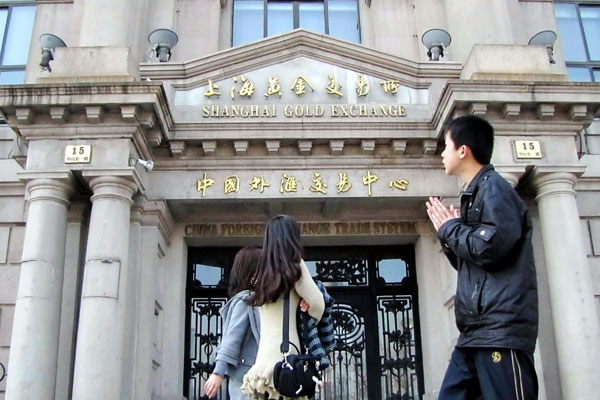 Pedestrians walk past Shanghai Gold Exchange, Feb 21, 2010. The SGE has recently allowed foreign investors to invest directly into the city's gold market. [Photo/Provided to China Daily]
One week after the Shanghai Gold Exchange started trading in the China (Shanghai) Pilot Free Trade Zone, transactions on the international board have been scant compared with international peers. But analysts said it is still too early to assess the board's operations.
The SGE's international board for the first time enables international investors to invest directly in China's gold market, and it has been widely seen as part of the country's effort to open its financial markets and gain more say in the pricing of the precious metal.
Three contracts are offered: 100 grams of bullion of 99.99 percent purity (iAu100g), 1 kg of the same purity (iAu9999) and 12.5-kg bars of 99.5 percent purity (iAu99.5).
According to exchange data, trading of the iAu9999 contract was the most active of the three, with transactions involving a little over 1,000 contracts on Thursday.
By contrast, the London Metal Exchange recorded 23,857 contracts of physical gold traded on the same day.
Analysts said that uncertainties over exchange rates and gold prices may have prompted the SGE's international board members to hold cash.
All three contracts offered by the SGE's international board are yuan-denominated and physical gold-backed, so investors need to take risks into account before they decide to trade in the exchange, said Yang Fei, an analyst at Seewonder Financial in Shanghai.
Xiao Shen, a Shanghai-based precious metals researcher with Dingjin Precious Metal, said: "Currently, only FTZ-registered members can trade, and they need to have accounts at banks registered in the free trade zone and authorized by the SGE to make transactions. The exchange is not yet open to individual traders, and many players have not entered the market. As more members are involved, the trading volumes may increase." Trading volumes and transaction values are benchmarks to evaluate an exchange's activity.
Albert Cheng, World Gold Council managing director for the Far East, said that the board should aim to become a key trading platform in Asia.
Xiao said: "It would be unreasonable to expect a new exchange to become a big player in just a week and compete with other exchanges that have century-long histories. Let's be patient to see how the SGE's international board evolves."