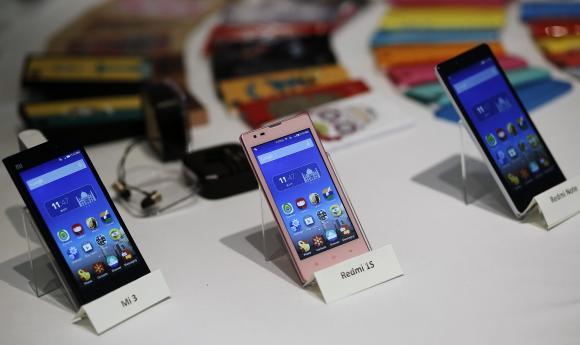 Three models of China's Xiaomi Mi phones are pictured during their launch in New Delhi July 15, 2014. [Photo/Agencies]
China's Xiaomi said it intends to invest heavily in India as the budget smartphone maker launched on Tuesday its flagship Mi phone and other products in the world's third largest smartphone market, currently dominated by Samsung Electronics Co Ltd.
Xiaomi's International Vice-President Hugo Barra, a former Google Inc executive who joined last year, said the company does not expect to turn a profit in India any time soon.
He said the privately owned Xiaomi was planning to build India-specific features for its phones and set up a local team to help penetrate one of the world's fastest growing smartphone markets.
"We realize this is a market where we have to invest heavily in," Barra told Reuters. "There's no point in thinking about profits at this early stage," he said by telephone from New Delhi, where Xiaomi launched the Mi 3, the cheaper Redmi and its Redmi tablet.
Localization will be key to Xiaomi's fortunes in India, where it will have to convince users to turn away from the apps and services they are used to and adopt Xiaomi's own system. Xiaomi's success in China has partly come from its unique Android operating system, which it tailored to its customers.
The company's margins on phones are thin, as they use high-tech hardware, but it makes up for that by selling its higher-margin accessories and customized apps.
Xiaomi's success has partly stemmed from its affordability. The Mi 3, Xiaomi's latest smartphone, is priced at 13,999 rupees ($230). According to Neil Shah of Counterpoint Technology Market Research, the phone's features are comparable to the Samsung Galaxy S4, which costs between 29,000-30,000 rupees.
India ranks behind China and the United States in smartphone sales, with up to 90 million smartphones expected to be sold there this year, according to Counterpoint Technology Market Research.
In India, Xiaomi is selling its products via ecommerce company Flipkart.
Xiaomi is better known globally as China's answer to Apple Inc, an image that billionaire Lei Jun had fostered initially when he founded the company in 2010 by dressing in the black tops, jeans and sneakers favored by the late Steve Jobs. In China, Xiaomi has built a fan base much like Apple.
Barra said Xiaomi would remain focused on emerging markets and was planning to launch in Indonesia next. He did not specify a time frame.
Xiaomi became the world's sixth-largest smartphone vendor in the first quarter of 2014, according to data firm Canalys, after repeatedly doubling its sales. The company, valued at $10 billion last year, expects to sell 60 million phones this year.