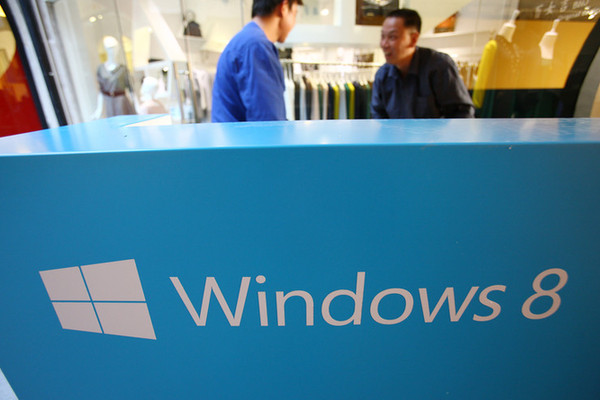 Employees are seen at the stand of Window 8 during a preview before its launch event in Shanghai, China, 23 October 2012. [Photo/IC]
More business opportunities will be available to home-made operating systems after China banned Microsoft Corp's Windows 8 in new government purchases, analysts said on Wednesday.
A big question mark remains, however, because local providers may not be ready to take over the multi-billion-yuan market from overseas giants.
"The ban is a golden opportunity for Chinese software companies to gain ground but it also challenges their product and technology levels," said Zhang Yumu, vice-president of online security company Beijing Rising Information Technology Co Ltd.
Zhang's remarks came after the Central Government Procurement Center on Tuesday excluded Microsoft's flagship OS from the government's energy saving products purchase list.
According to the website of Central Government Procurement Center, this batch of energy saving procurement products should be in accordance with seven criteria which applies in information product category, including desktop computers, tablets, notebook computers, integrated computers and varies printers.
China Business News cited an analyst saying that this ban should not be interpreted as a total prohibition. The appendix of the document released by Central Government Procurement Center indicates that this is a limited move apparently confined to just 10 laptops, 10 desktops, five tablets and five integrated computers.
Wide use of overseas software in governments, military projects and crucial industries such as energy has been raising security concerns for the Chinese government since last year.
Even so, Windows 8 had less than three percent of the market share in China as of April, according to Internet data company cnzz.com.
The website's statistics included OS installation on smartphones and tablets so the adoption rate of Windows 8 on personal computers is set to be significantly lower. PCs are the major government procurement item in China.