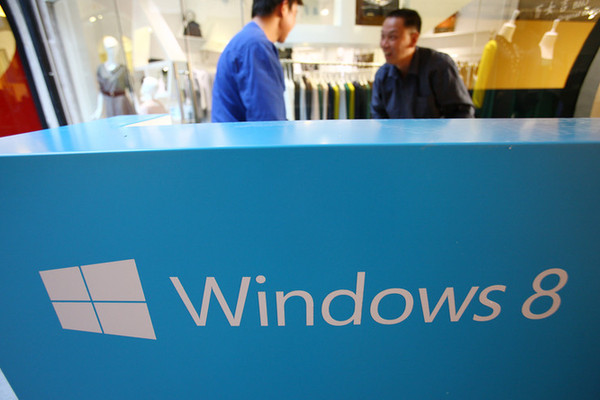 Employees are seen at the stand of Window 8 during a preview before its launch event in Shanghai, China, 23 October 2012. [Photo/IC]
Microsoft's flagship product Windows 8 has been banned by China from government procurement. China's Central Government Procurement Center announced that on Tuesday the use of Microsoft Corp's Windows 8 operating system (OS) on government computers is not allowed.
According to the website of Central Government Procurement Center, this move applies to all products in information product category, including desktop computers, tablets, notebook computers, integrated computers and varies printers.
Although the government has not spelled out the exact reason behind the ban, analysts speculate high cost and compatibility are two primary causes. The retail price of Windows 8 in China is 888 yuan ($142) and its predecessor Windows 7 costs about 400 yuan ($64.4). Another reason could be that many Chinese government's websites may not be compatible with Windows 8, according to China Business News.
"We have been and will continue to provide Windows 7 to government customers. At the same time we are working on the Window 8 evaluation with relevant government agencies," Microsoft statement said.
Central Government Procurement Center's ban on Window 8 system may provide a rare opportunity to homegrown operating systems. In terms of easy of use and compatibility, domestically developed Linux-based Ubuntu Kylin OS and Neokylin Linux Secure OS can be the alternatives. Although lack of supportive environment means local operating systems will find it tough to crack the general PC market.
China Business News citied analyst's saying that this ban should not be interpreted as a total prohibition. The appendix of the document released by Central Government Procurement Center indicates that this is a limited move apparently confined to just 10 laptops, 10 desktops, five tablets and five integrated computers.
Boost information service stock
After the announcement was made public, mainland's information service stocks surged in the Tuesday afternoon trading, with seven stocks hitting the 10 percent daily limit.
Firms that saw the surge in stock price after the announcement of the ban, which applies to desktop, laptop and tablet computers, include China National Software & Service Company and Beijing Join-cheer Software Company.
Security Times report citing an anonymous industry source said Linux operating systems could be the main substitute of Windows 8, besides Windows 7 or XP. China Standard Software Co's Neokylin Linux Secure OS is among the alternatives, and the company is CNSSC's 50 percent subsidiary.
China Business News quoting Sinolink Securities' research report said that there are about 125 million users of Windows XP across China, and the operating system dominantes government and State-owned enterprises with around 70 percent market share.
"Not a single company listed in Chinese A share market has the capability to develop a competent OS to rival Microsoft," China Business News quoted an analyst in a Shanghai securities company.
Windows 8 milestones:
Year of development: 2007
Public unveiling: 2011
Launch year: 2012
Global market share: 6.38%
Total licenses sold: 200 million