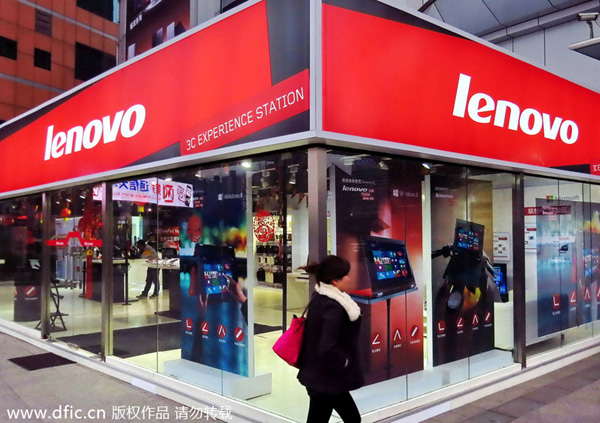 A pedestrian walks past a Lenovo store in Shanghai China, February 21 2013. [Phote/IC]
Lenovo Group Ltd posted record-high full-year earnings on Wednesday helped by strong upswing in European personal computer business and smartphone sales in China.
The world's largest PC maker said it has shipped 55 million personal computers, 50 million smartphones and 9.2 million tablets during the fiscal year ended on March 31. The company's annual earnings hit $817 million, a jump of nearly 30 percent year-on-year, according to Lenovo's financial report.
The company described the past fiscal year as "truly outstanding" while the Beijing-based company consolidates its leading position in global hardware manufacturing industry.
"The record sales and profits that we delivered last year prove that Lenovo can grow and deliver its commitments, no matter the market conditions," said Yang Yuanqing, chairman and CEO of Lenovo.
The company's PC shipments in Europe, Middle East and Africa grew by 33.3 percent during the fourth fiscal quarter which started in January, it said, adding that its market share in the region is about 16 percent.
Read the full coverage of Lenovo's new strategies tomorrow on China Daily newspaper and website.
Legend Holdings plans full listing in 2015
Lenovo to build 2,000 smart-TV stores
Lenovo makes guarantees to IBM strikers
How can Lenovo compete with Apple?