More crowdfunding platforms are springing up to support entrepreneurs, but analysts warn that the protection of investors needs improvement.
The nation's crowdfunding market could reach $46 billion to $50 billion by 2025, and the market for all developing countries could be $96 billion by then, according to the World Bank.
In the crowdfunding model, people can propose a project to be funded through a platform, with investors putting in money in return for receiving some product or service, or being given shares.
Australia's leading funding platform Pozible entered the Chinese market in April and set up a team in Shanghai.
According to Chen Gang, a founder of Pozible, although there are many players in China, Pozible has advantages that include diversified investors from 104 countries, transparent and low fees, and special treatment for Chinese projects.
Since 2011, about 30 crowdfunding platform companies have been established in China, including Zhongchou, Demohour, Dreamore, Angelcrunch, Dajiatou and Ctquan.
More than 900 projects were listed on Angelcrunch as of Nov 30 2013, and more than 70 had finished financing programs that raised more than 200 million yuan ($32 million) in all.
"Crowdfunding is booming in China, but it's difficult to protect investors in a product or service, because they may not be delivered on time or be in line with what was promised," said Li Yaodong, research head at 01caijin, a portal that covers Internet finance.
Li added, though, that investors' expectations for many small projects are modest, and many will only put a few dozen yuan or at most several hundred yuan into a project. Many are also motivated as much by the idea of supporting innovation as they are by making money.
"It is more important to protect investors of equity crowdfunding because their investment amount is much larger," said Li. In some cases, financing amounts can run into tens of million yuan.
Li said although these projects are shown online, the real deals are made offline for the sake of security.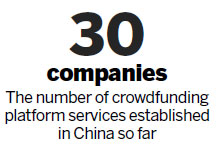 "Doing due diligence is also vital," said Li. "Crowdfunding platform companies should not only make sure the business plans are accurate, they also need to regulate the projects' implementation after financing is finished. "
These platforms in China make profits from fees paid by the projects' initiators, usually 5 to 10 percent of the whole financing amount.
The China Securities Regulatory Commission is poised to issue rules for crowdfunding.
In February, United Photovoltaics Group Ltd announced plans to raise 10 million yuan on Zhongchou to set up a small power station. The money was raised in March, with the number of investors limited to 100. Each of those investors was limited to 100,000 yuan. The fund raising was successful.
The Renewable Energy Trade Board will set up a limited partnership fund for the project, and after a lockup period of two years, investors can cash out with an annualized rate of return of 6 percent.