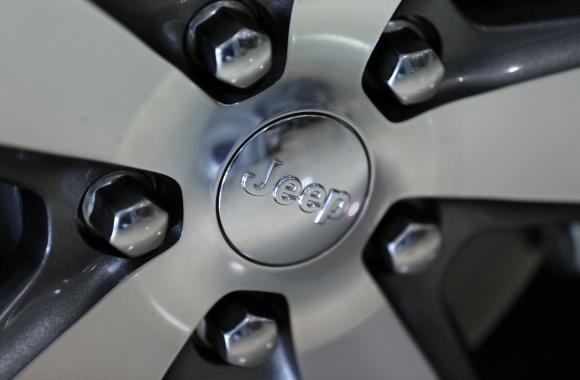 The Jeep logo is seen on the wheel of a Jeep Grand Cherokee on the showroom at the Massey-Yardley Chrysler, Dodge, Jeep and Ram automobile dealership in Plantation, Florida Oct 8, 2013. [Photo/Agencies]
Fiat Chrysler will build Jeeps in China and Brazil and is expected to invest billions of euros to revamp its battered Alfa Romeo sports-car brand in a bid to convince investors it can turn the newly merged automaker into a thriving global business.
Chief Executive Sergio Marchionne unveils the group's long-awaited five-year business plan on Tuesday when he is expected to show how Fiat Chrysler can "go on the attack against the giants" in the industry.
The focus will be on execution. The group has repeatedly missed sales targets as it delayed investments, made some bad design choices and has seen its main
Europe
an business lose share and plunge into losses during a six-year market slump.
Apart from repeating its overall goal of growing sales by more than a third to over 6 million vehicles by 2018, investors want Marchionne to provide specifics on how and when he plans to compete with much larger rivals such as Toyota Motor Corp, General Motors Co and Volkswagen.
"Fiat Chrysler has got to stop saying they will do it and just do it," said Stephanie Brinley, a senior analyst at researchers IHS Automotive. "We are waiting for the execution."
Jeep, with ready products and a globally recognized brand in the fast-growing sport utility vehicle (SUV) segment, is today Marchionne's best bet to grow sales, boost margins and to gain a global manufacturing footprint in Fiat's home turf in Europe and in fast-growing markets such as Brazil and China.
A compact Jeep called the Renegade will go into production in Italy later this year - the brand's first model to be built exclusively outside the United States - and that same model will also be built in Brazil as of next year.
The Renegade is critical for the brand's overall sales target of 1 million vehicles this year, a jump of 37 percent over 2013.