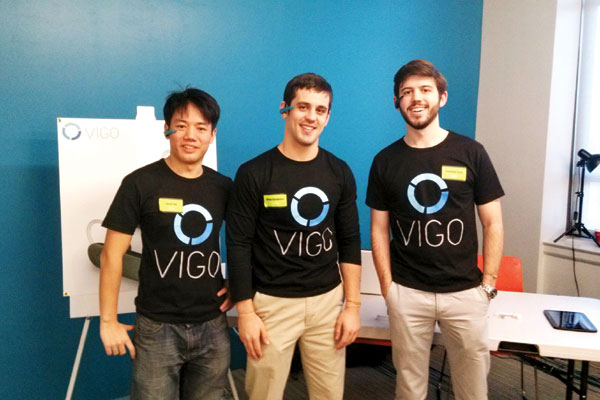 From left: Jason Gui, Drew Karabinos and Jonathan Kern, the three cofounders of Vigo. Their device monitors users' levels of tiredness and attracted funding through Kickstarter and Demohour. Provided to China Daily  
Strangers fund projects from technology to music - and more
From personal art projects to technology-heavy entrepreneurial ventures, the appeal of crowdfunding is widespread. People who have used this platform to turn ideas into tangible projects say they were surprised by the response of total strangers from around the world.
One of them is Jason Gui, the 23-year-old cofounder and chief technology officer at Vigo. Gui is using crowdfunding to take his product - imagined while he was a university student in the United States - to a manufacturing facility in China and, using capital raised online from around the globe, is looking to reach out to people.
Capital can make it possible for young entrepreneurs like Gui to turn ideas into reality.
"I've always known that I'd become an entrepreneur," says Gui. "I have many ideas, but none of this would have happened if I didn't actually get off to do it."
Originally from China, Gui went to the US to study and eventually graduated with a degree in engineering from the University of Pennsylvania and another in economics from the university's Wharton School.
"Many engineers don't know how to present their works to the market," says Gui. "Knowing one day I would have my own products, I chose to combine marketing and engineering."
Last December, Gui and classmates Drew Karabinos and Jonathan Kern launched Vigo on the popular crowdfunding website Kickstarter.
Vigo is a Bluetooth device for wearing on either ear that helps keep users awake. Connected to a smartphone application, the device records the movement of the wearer's eyeball, runs the collected data and compiles an energy chart indicating the time of day the user is most energetic and when they might be getting tired.
The device can make recommendations, such as when to exercise or when the user has been sitting too long.
Vigo also wakes users if they are dozing off with a sound, vibration and an LED light. Gui and his colleagues believe the device may be most useful for drivers, students and office workers.
"The idea comes from the fact that we always fell asleep in class. I wanted to make something to help keep me awake," says Gui.