Dow says chemistry is just right for growth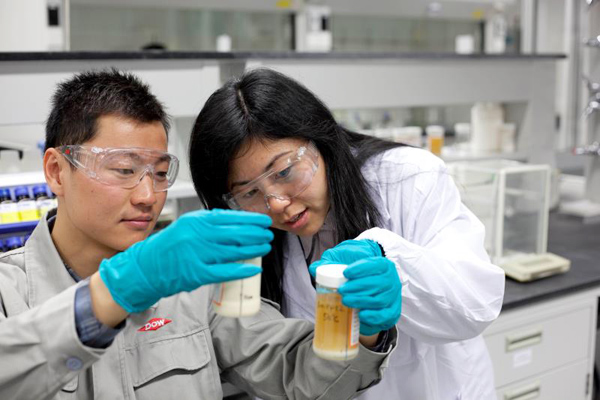 Local staff work at Shanghai Dow Center-its business and innovation hub in the Asia-Pacific region. PROVIDED TO CHINA DAILY
Dow Chemical now operates 17 manufacturing sites and 10 offices in China. Will you consider investing more?
Yes. I think China and Dow share the same strategy: that dollars shouldn't be invested in yesterday's factories but in the human capital to invent better solutions for China's drive to improve living standards, food safety, water management, sustainable urbanization and efficient transportation.
Investments focusing on research and development are where we have been and where we are going. Dow doesn't aim to build big petrochemical plants, but to build high value product lines and to invest in human capital to help customers use modern technologies.
How do you see the effect of economic conditions on your businesses in China?
At Dow we made sustainability a business strategy. We can find solutions to these problems with technology and be efficient in delivering answers to our customers. So we are having no problem growing and actually the company has had 18 quarters in a row of earnings growth and 14 quarters in a row of volume growth, year-on-year. So you may say the world has slowed down, but we haven't seen it and now I am being asked to put more capacity in place.
How has globalization benefited your business?
To companies like Dow who have been global for a long-time, globalization has meant very efficient localization. We have developed our local people, because these guys are good examples of how we globalize. Whatever you think of the word globalization, we are not afraid of it. We welcome it because we are global.
What is your biggest achievement in China? How has the company's expansion in China been going so far?
The biggest achievement has been with the human capital. We have incredible talent here that we get from universities and we can pretty much hire anybody.
We can compete for human talent because we are a great company to work for here. We have incredible people, a lot of them young, energized and motivated to do well for Dow in China.
How do you see the competition with your counterparts in China?
The other global foreign multinationals may have similar strategies, but I think our new approach to business is unique-cooperative partnerships, innovation and marrying the problems of the customer with solutions. Frankly, competitors may do the same things, but we are being very successful with that and I am not concerned.
We come up with technological answers that are specific to China, so no foreign company can copy us. The barriers to entry are high, because we have set them high.
What will be the size of the combined Dow/DuPont business in China and what will be the focus of the business activities?
The size of the company in China and around the world is roughly the same as we are now. The merger of equals between Dow and DuPont is complicated and size is not relevant because we are going to put the two together to create three separate companies, one focusing on materials science that Dow will take the lead, the other two focused on agriculture and specialty businesses where DuPont will take the lead.
The time together has been short at 18 months, especially when you compare the history of DuPont which is 215 years old and Dow which is 120 years old.
What essential leadership qualities do you consider important?
The new leadership is called "followship". Leadership used to be about management, but that changed decades ago. In this era, you literarily have to let your team lead and you follow and it's followship. Followship means you have to see the big picture and little picture.
What are your hobbies? How do you spend your time off while in China?
My hobby is my family and I don't get any downtime. I pretty much read everything. I am an avaricious reader, and a speed reader too. One day I will start writing again, because I love to write and I am a decent writer.
CV
Age: 63
Birthplace: Darwin, Australia
Career:
April 2006 onwards: Chairman and Chief Executive Officer of The Dow Chemical Company
2004-2006: Chief Executive Officer of The Dow Chemical Company
1976-2004: Manufacturing, engineering, sales, marketing, business and general management roles around the world, including 14 years in the Asia-Pacific region
1976: Joined Dow in Australia
Education:
1976: Bachelor's degree in Chemical Engineering, University of Queensland
Family: Married with three children