Dow Chemical expects to keep fast growth in nation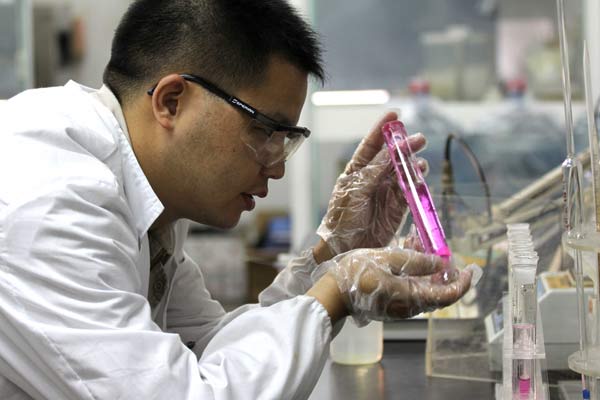 A technician from Dow Chemical Co checks sample of waste water in Nantong, Jiangsu province. [Photo/Xinhua]
Dow Chemical Co expects to maintain its double-digit growth rate in China, by pushing for more products and solutions that are environmentally sustainable, company executives say.
In 2017, the US-based chemical corporation will continue to increase investment in its second largest international market, and expects to achieve a double-digit growth rate of volume, according to Yoke Loon Lim, president of Dow Greater China.
Lim said they would consider investing in human resources and manufacturing capability, but he didn't disclose the exact amount of investment.
Dow's sustainable innovations in a wide range of areas, such as food safety, infrastructure, and energy efficiency, will help accelerate the pace of China's transformation into a green economy, said its chief sustainability officer Neil Hawkins.
Dow 2025 Sustainability Goals, a pledge to facilitate the transition to a sustainable planet and society, are "on a trajectory in the same direction as China's new Five-Year plan (2016-20)," said Hawkins.
"We have a very sharp focus here in China on doing research (on) more sustainable products," said Hawkins, citing the company's food packaging, waterborne coating solution, and a binder technology for paint that helps remove harmful formaldehyde from indoor air.
Dow said it has been enhancing its local innovation capability and building its regional business into a global hub since entering the market in the 1930s.
In addition to expanding business in major coastal cities, Dow made inroads into inland areas to cover the Chinese market as widely as possible, Lim continued.
Last year, the company expanded manufacturing bases in Zhangjiagang, Jiangsu province, and Chengdu, Sichuan province. Earlier, it opened an office in Urumqi to cover the Xinjiang Uygur autonomous region, to align with the Belt and Road Initiative that the Chinese government is pushing.
Clearly, US companies recognize the importance of bilateral relationships with China and its importance as a key market, said Michael Thorneman, Bain senior partner in China.
However, Thorneman said, unclear regulations and uncertainty about bilateral relations exacerbated the concerns about the Chinese investment environment among those surveyed in Bain's 2017 Business Climate Survey, which was released recently.
Though admitting the challenges brought by changing geopolitical situation, Lim said they are "seeing a lot more opportunities".