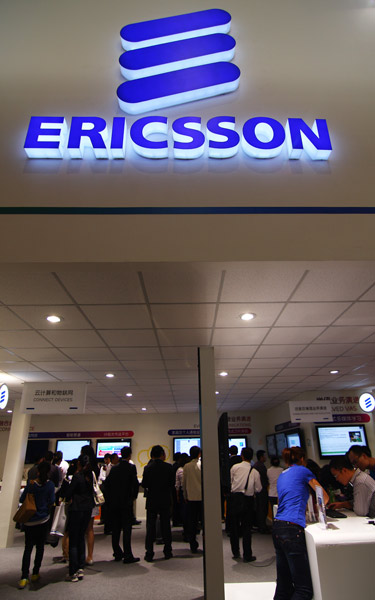 An Ericsson booth at a tech fair in Beijing.[Photo/China Daily]
How do you get along with local partners?
Growth in four key areas viz. high-tech investment, creation of job opportunities, exports and human resource development in China have helped Ericsson establish a solid network of partners.
What is the secret of your business success in China?
Ericsson is the world's leading supplier of ICT solutions and services. Today, more than 40 percent of the world's mobile traffic goes through Ericsson networks and the networks we support for operators serve more than 2.5 billion subscribers.
The great thing about Ericsson is that we are constantly reviewing our business and trying to find out how to transform ourselves to stay relevant. The landscape of the telecom industry in the world and also in China has changed dramatically over the past three decades. Competitors come and go. But Ericsson will always be at the center stage.
One of the most important factors in our success is that we invest in our future. We have 37,000 granted patents and spend more than 2 billion yuan every year on R&D in China. That's how we have always been able to support our customers and to stay ahead of competition.
What's an effective leadership for a company engaged in China business? How has your style of management changed over time?
Ericsson has customers in 180 countries around the world. For us it is important to attract local talent and build local competence to support our customers.
This is the same in China. Since 1892 we have been relying on local talent to keep our customer satisfaction in high level.
Ericsson believes in diversity and inclusion. No matter what gender, race, age our employee has, they should be empowered to perform their best. This is reflected in the increasing diversity of the management team in the country.
How do you motivate your international team?
Ericsson is a true international company. Our 117,000 employees are literally international working as a team across the globe to support our customers in 180 countries. Being an international team member itself is the motivation for our employees.
How do you handle hardships and setbacks, if any?
I love what I do. Having an excellent team of professionals working for me has given me the confidence to withstand all challenges.
What do you think about the China Dream? What are your dreams or ambitions in China?
Ericsson shares the so-called China Dream because its vision of a Networked Society is also about empowering every person and every industry to reach their full potential.
Ericsson considers itself a true partner in the economic and social development of China.
We are committed to this market and will spare no efforts in supporting the transformation of not only the telecom industry, but also other industries.
What are your hobbies? How do you spend your time off duty while in China?
Unfortunately while in China on business trips, my schedule is usually full as I want to spend as much time as possible time with my customers and my colleagues.
Gao Shuang contributed to this story.