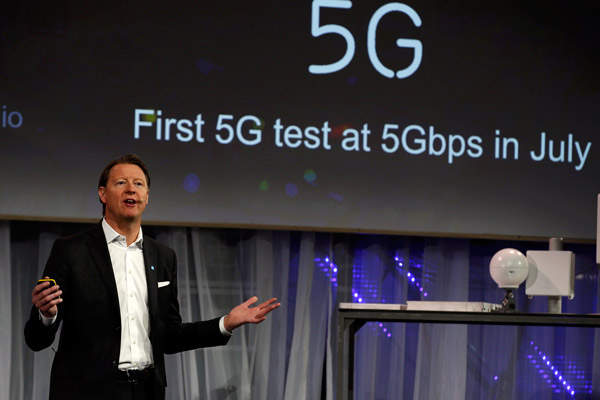 Ericsson's Chief Executive Hans Vestberg speaks during a presentation event at the Mobile World Congress in Barcelona March 2, 2015.[Photo/Agencies]
Ericsson to leverage its rich heritage with growing demand for data services, says top official
Swedish mobile telecom gear maker Ericsson is confident that its strong research and development capabilities will help it weather the ongoing market challenges in China.
Hans Vestberg, the president and chief executive of Ericsson, admits that despite the challenges, there is enough room for sustained growth in China as the country is on the cusp of a data revolution.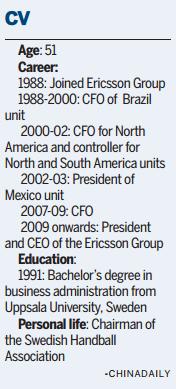 Ericsson, which traces its China roots to 1894, will continue to build on the rich legacy and look to be an integral part of the ongoing industrial transformation.
"We will continue to support China in its transformation and upgrade process as it strives to be a leader in technology and services. We are happy to share our world-class technologies and practices with the country," said Vestberg.
According to Vestberg, data traffic in China will grow at a high 65 percent every year from 2014 to 2020. "What this means is strong market demand," he said.
To tap the potential, Ericsson plans to increase its more than 2 billion yuan ($305 million) annual investment so that it can support its customers in the country and stay ahead of the competition.
Vestberg spoke about the company's strategies in China during an interview with China Daily. Following are the edited excerpts of the interview.
What are your business strategies as you readjust to new Chinese economic initiatives and realities?
By 2020 we envisage a world with about 26 billion connected devices. Anything that can benefit from a connection will eventually have one, to the advantage of people at work, at home and during their free time. We call it the Networked Society.
We are delighted to see that the Chinese government has identified infrastructure connectivity as a priority for the Belt and Road Initiative. This is very much in line with our strategies and vision to be the driving force behind the Networked Society.
As a world leader in information and communications technology and services, we believe in the power of ICT, which not only serves as the backbone of the all-connecting infrastructure, but also enables people in other industries to innovate, collaborate and communicate.
That is exactly what we are doing in China. We are the strategic partner to all three telecom operators, vigorously providing industry-leading mobile networks and services to support our customers in improving user experience for individuals and enterprises alike.
And we are also expanding into new areas, innovating technologies and business models for other industries such as transportation, utilities and public safety.
How do you assess the prospects of your business in China in conjunction with the market?
We expect long-term evolution subscribers in China to exceed 1.1 billion by the end of 2020. That will account for about 30 percent of the total global LTE subscriptions.
It is a tremendous number. Chinese consumers are also rapidly changing to 4G technologies, with more than 70 percent of devices sold now being 4G capable.
Ericsson has been in China for more than 120 years. We have confidence in Ericsson's business prospects in this market as we have the best technologies, best experiences and best talents here.
We have forged excellent partnerships with Chinese telecom majors. We see a continuous demand for better ICT infrastructure and advanced services and solutions.
What's your biggest achievement in China as the CEO?
First of all, we should never rest upon achievements made in the past. But we are definitely proud of being part of every important milestone in the history of China's telecom industry.
In the past three years, we are particularly proud to be supporting all the three operators in China to build up the world's largest 4G LTE network at a record speed.
We are proud that since 1892 when Ericsson received its first order from China for 2,000 Ericsson telephone sets, the cooperation has withstood the test of time. Over the past decades, especially since the opening up and reform policy, Ericsson has made active contributions to economic development and the rapid growth of the Chinese telecom industry with our advanced products and solutions.