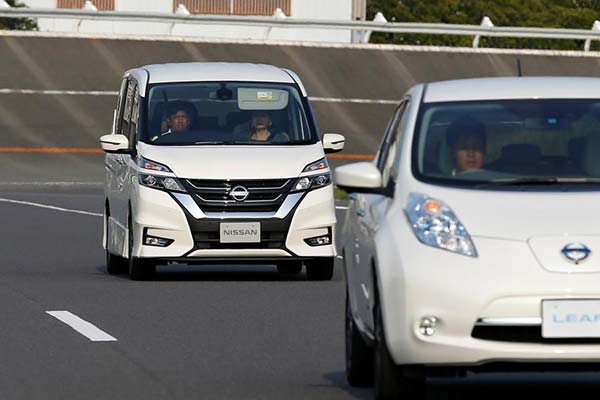 Nissan's new Serena (L) minivan which is equipped with Propilot semi-automated driving functions, follows a leader vehicle at the company's test drive facility in Yokosuka, Japan July 12, 2016. [Photo/Agencies]
Nissan Motor Co introduced driver-assist features that enable its newest minivan to handle some highway driving on its own, just as a similar system from electric-car maker Tesla Motors Inc comes under scrutiny following a number of crashes.
The technology, available in the new Serena model on sale in Japan next month, renders the minivan capable of accelerating, braking and navigating highway stop-and-go traffic in a single lane. Called ProPilot, the system sends warnings when drivers take their hands off the wheel and will eventually disable if the prompts are ignored for a few seconds.
Japan's Transport Ministry said last week dealers selling cars with driver-assist functions should remind consumers of their limits, noted Tesla's Autopilot system isn't fully autonomous and said drivers should be responsible in the event of accidents. The United States National Highway Traffic Safety Administration is expected to announce guidelines as soon as this month that will set some parameters for self-driving cars.
"The point is it's not fully autonomous driving, but driver-assistance technology, so it can't handle everything for you," Hideyuki Sakamoto, a Nissan executive vice-president, said on Wednesday during a briefing in Yokohama.
Bloomberg