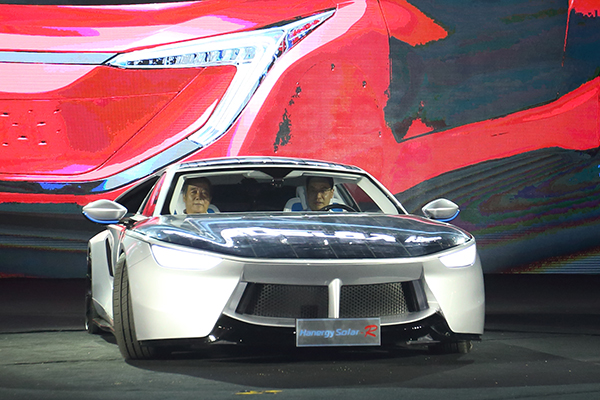 Hanergy displays a concept solar-powered vehicle in Beijing on July 2, 2016. [Photo provided to China Daily]
Experts warn non-traditional automakers' plans for electric cars may be too optimistic
'Aim for the moon. If you miss, you may hit a star." So said American businessman, philanthropist and author of self-help books W. Clement Stone. He might have added, however, that those who fix their eyes on the stars should first ensure they are firmly rooted in the earth.
A Chinese power giant that has no experience of making automobiles took many in the country by surprise when it announced on July 2 plans to make solar-powered cars and claimed that it would bring about transformative change of the auto industry.
"I am not as famous as (Tesla Motors' CEO) Elon Musk but our company is more innovative than Tesla and thus we will be the one to transform the industry," said Li Hejun, chairman of Hanergy Holdings.
The company showcased four concept solar-powered vehicles on the day, saying that the thin-film solar cells on the cars, which range from 3.5 to 7.5 square meters, are able to generate 8-10 kilowatt-hours of power per day, allowing them to travel around 80 kilometers.
"Nobody dared to imagine that a car could run on sunshine. For us, it is not a whim; it is a strategic plan. Cars are merely part of our plan, and we will also produce drones," said Li.
According to Hanergy, the vehicles are the world's first thin-film fully solar-powered cars to be commercialized and they will hit the market within three years.
But Zhang Yu, managing director of Shanghai-based Automotive Foresight Co, said Hanergy is a good storyteller, and cast doubt on their proposed timeframe.
"It (Hanergy's strategy) leaves a great deal to the imagination," said Zhang, who said it usually takes automakers at least four to five years to bring a concept car to the market and, in the case of Hanergy, even more time is required as new technologies are involved.
Some industry insiders claim that Hanergy's "story" has been told principally for the benefit of investors, to combat the company's dicey standing in the markets. In July last year, Hanergy Holding's listed subsidiary, Hanergy Thin Film Power Group Ltd, was suspended from trading on the Hong Kong bourse by the Hong Kong Securities and Futures Commission.
Financial statements show that it lost HK$12.2 billion Kong in 2015, twice the profit it made in the previous four years combined.
When asked about his investment plans to make cars, Li insisted that the company would succeed based on "virtues, wisdom, will and luck".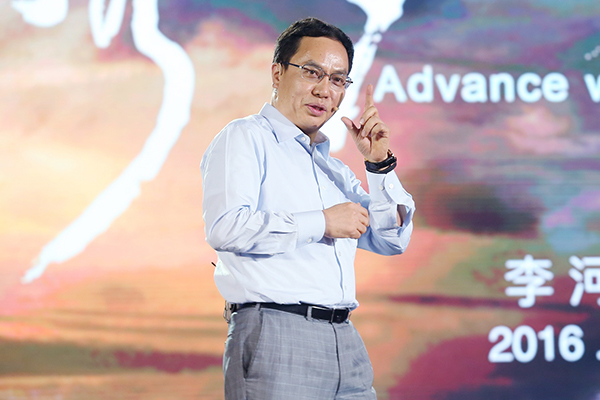 Li Hejun, chairman of Hanergy Holdings. [Photo provided to China Daily]
Established challenger
Li is not the first to challenge Tesla in the sector. Perhaps an even more renowned competitor is the entrepreneur Jia Yueting, head of Beijing-based Chinese technology company LeEco, that has vowed to transform a number of industries including TV, mobile phones and electric cars. Its calling card is its so-called "eco system", which even the company itself has failed to clearly define.
Often wearing T-shirts, much like Steve Jobs did, Jia has long made public his ambitions to take on Apple in smartphones and surpass Tesla in electric cars.
Faraday Future, the US-based intelligent electric vehicle and mobility solutions company that is financially backed by Jia, has attracted staff from Ferrari and BMW, and is building a $1 billion auto plant in Las Vegas, Nevada, US.
However, Bloomberg reported that the state's treasurer Dan Schwartz is skeptical Jia can secure financing for the car plant, a project that needs government support for power lines, water mains and roads.
Schwartz said Jia's plans rely on equity-backed loans, which could leave Nevada taxpayers vulnerable to China's volatile stock market.
The report said Jia has pledged funds from 87 percent of his holdings in Leshi Internet Information & Technology Corp - his flagship firm - which he subsequently plowed back into his companies.
The stock, which was halted in Shenzhen for the first five months of this year, has dropped 11 percent since it resumed trading on June 3, a move that heightens Schwartz's fears.
Wang Zheng, the Shanghai-based chief investment officer at Jingxi Investment Management Co, told Bloomberg:"It's only a matter of time before problems emerge."
He said the company's high valuation reflects the appeal of "concept" stocks among Chinese individual investors.
Chinese newspaper the Economic Observer reported that Jia is encountering difficulties in his fundraising efforts for the car project.
It said that Legend Holdings is so far the only confirmed investor and its investment is mainly for the sake of its future mobility plans, while most investors in the market are reluctant as Jia has liquidated most of his holdings.
An expert who spoke on condition of anonymity claimed Jia has overhyped LeEco. "(LeEco should) show me a volume car first instead of constantly bragging about how excellent and innovative it is.
"And don't tell me you are better than Tesla. We can judge for ourselves when you show us your car," he said.
Tesla under microscope
Tesla is under intense scrutiny following the death in the United States of a Model S driver who crashed into a truck because the car's self-driving system malfunctioned, and its sensors failed to pick up a large white 18-wheel truck and trailer crossing the highway, Tesla said.
The US National Highway Traffic Safety Administration has opened an inquiry into the accident.
Instead of offering an apology, Tesla said in a statement it was the company's first known Autopilot death in some 130 million miles driven by its customers, but added that among all vehicles in the US, there is a fatality every 94 million miles and every 60 million miles worldwide.
On July 4, a Model X that was in Autopilot mode collided with a car in Beijing.
"It (the Autopilot system) gave signals about the car in front, but did not take any preemptive action, and it was too late for me to take over," said the driver in a post on car website autohome.com.cn. The driver included pictures in his post.
"Autopilot is flawed. Don't use it if at all possible," he warned.
The NHTSA has yet to release its findings and it is hard to say what effect they will have on Tesla.
What is certain, however, is that the cases sound a warning to other electric vehicle companies looking to fast-track technologies into their cars. After all, few traditional automakers would offer a system to its customers when it is "still in a public beta phase" of testing, as Tesla admitted was the case with its self-driving system.