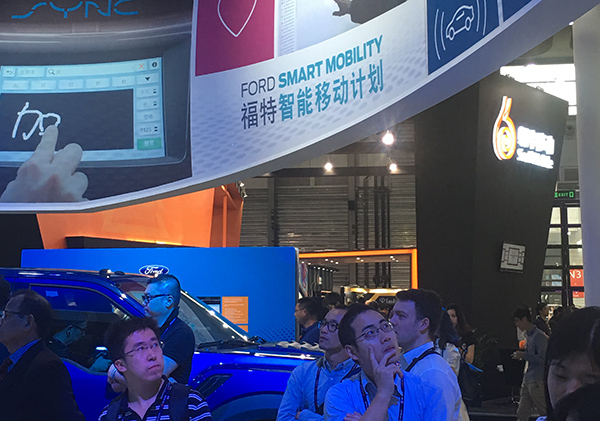 Visitors at the Ford exhibition area at the 2016 Mobile World Congress Shanghai that ran from June 29 to July 1. [Li Fusheng/China Daily]
Ford has underscored the importance of cooperation with local partners as it looks to roll out a number of mobility projects to make travel more convenient for urban dwellers.
"We know we can't do this alone - and that's why we are working with many valued partners, so we can be even better at launching innovations that anticipate our customers' needs," said John Larsen, mobility director at Ford Asia Pacific, at the 2016 Mobile World Congress Shanghai.
Larsen made the remarks while relating the results of a parking experiment in Shanghai with Chinese app provider Cheyaoshi.
Ford employees used to spend up to 20 minutes every day looking for parking spaces around their office, but they found parking no longer a headache in the pilot program.
By using the app, they arranged for a valet to meet them at the office in the morning, park their car for them and deliver it back to the office, or anywhere within a 2.5 kilometer radius, at the end of their working day.
Larsen said he is hoping the app will be integrated into Ford's onboard SYNC AppLink system - and that the company can use the insights gained during the pilot program to develop new solutions for urban drivers.
It has already introduced a number of apps to its onboard system, ranging from weather forecasting and music to flight information and stock prices.
"The purpose of SYNC AppLink is to build a platform that invites innovation, invites outside developers to join in and offer their apps in our vehicles," said Larsen.
Ford is also piloting an app-based flexible shuttle bus system for commuters in Dalian, Liaoning province in partnership with Tsinghua University and the Panda Bus Company.
During rush hour, the buses run along fixed routes like ordinary buses but thanks to the app, users can book seats in advance. During off-peak hours, buses take more flexible routes, making them more like taxis or ride-share vehicles, only cheaper. The buses also operate during evening hours when there is little or no public transport service.
"This is a great example of a pilot that could deliver solutions to many of our customers' mobility challenges - and we continue to use it as the basis for wider research," said Larsen.
Ford unveiled its plan in early 2016 to become a mobility solution provider as well as an automaker.
Ford President and CEO Mark Fields said a revolution in mobility is around the corner due to the rising number of megacities, the growing middle-class, deteriorating air quality and people's changing mobility preferences.
In a recent Ford survey, 40 percent of daily commuters in China said their experiences on the road are worse compared to last year, while a quarter said their daily commute is the worst part of their day.