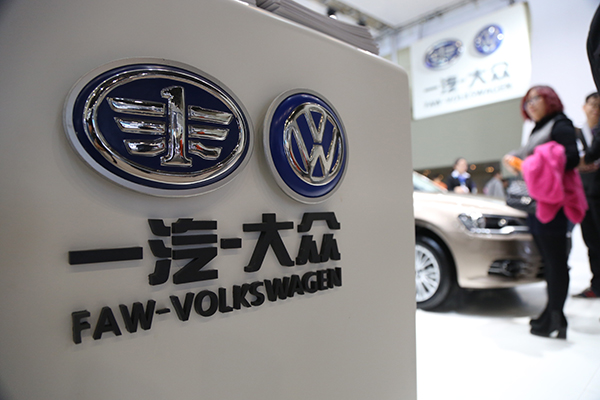 FAW-Volkswagen is the joint venture between FAW Group and Volkswagen Group in China. The country is now considering ending the cap on the stake foreign automakers can have in a JV with local partners. [Photo provided to China Daily]

Industry insiders divided on whether or not move would benefit or blight China's car market
China is considering ending the limit on the stake foreign carmakers can have in joint ventures with local partners, a move that would place increasing pressure on Chinese brands.
Speaking at the Summer Davos in Tianjin last week, Xu Shaoshi, minister of the National Development and Reform Commission, said the government is looking into lifting the current 50 percent cap, which acts as a protection for domestic automakers.
It is not the first time senior Chinese officials have indicated a possible change to the policy that was officially announced in 1994 and demands that foreign automakers who want to produce cars in China must establish joint ventures, in which their stake must not exceed 50 percent.
In April, Miao Wei, minister of industry and information technology, said China may remove the cap in three to five years.
He said pressure to lift the cap is coming mainly from foreign governments, with the US having voiced strong dissatisfaction with the current situation during bilateral investment discussions.
Industry insiders believe lifting the cap would fully expose Chinese automakers to competition from international rivals, but they are divided on whether or not the move would be a positive one for the country's auto industry.
Dong Yang, executive vice-president of the China Association of Automobile Manufacturers, is a firm advocate of the protective policy.
He warned in 2014 that Chinese brands would be "killed in the cradle" if foreign automakers were allowed to become more independent from their domestic partners, saying whoever supports removing the cap is "a traitor to the country".
His worries are understandable. Almost all the major international brands, including Volkswagen, Toyota and GM, have joint ventures in China, and these have been the dominant players so far in the market.
Statistics from the China Association of Automobile Manufacturers show that eight of the top 10 makers of passenger cars by sales in 2015 were joint ventures, and the two Chinese brands that made it into the top 10 occupied the seventh and ninth positions.
But despite this situation, many believe that removing the cap will not have disastrous results.
Li Feng, president of BAIC Motor, said the future of any joint venture depends on both the successful cooperation of the parties involved and their ability to complement each other, because "business is business".
BAIC Motor has joint ventures with South Korea's Hyundai and Germany's Daimler.
Li Shufu, chairman of Zhejiang Geely Holding Group Co, has been a longtime advocate for the removal of the cap.
He said the move would encourage competition and thus benefit consumers, according to the Beijing Morning Post newspaper.
"The policy is like parents giving excessive protection to their kids, said Li. "But such protection will not ensure their prosperous development and will, instead, weaken their abilities in innovation and competitiveness."
Jia Xinguang, a senior auto analyst in Beijing, said removing the cap may force Chinese automakers to stand on their own feet.
"The government has realized that investments alone will not result in competitiveness and the only way to force them to change is to put them in the real market," he said.
While some brands are currently struggling, others are performing positively.
Great Wall's Haval SUVs are among the most popular ones in the Chinese market, electric carmaker BYD has become well known for its new-energy cars, and the latest additions to Geely's lineup are winning recognition throughout the industry for their design and performance.
Statistics from the China Association of Automobile Manufacturers show that in the first five months this year Chinese-brand SUVs have a market share of almost 57 percent, and Chinese-brand MPVs, 91 percent. They together pushed the portion of Chinese passenger vehicles to 43 percent, a 1.2 percent growth year-on-year.
In addition to the progress made by Chinese brands, Zhu Guohua, assistant to Chery's general manager, said new technological trends such as autonomous driving, new-energy cars and connectivity are giving Chinese carmakers more bargaining power in negotiations and cooperation, because China is outpacing many other countries in those aspects.
His views have been echoed by Cui Dongshu, secretary-general of the China Passenger Car Association.
"Negotiations between the two parties in a joint venture will be based on actual conditions and foreign brands won't necessarily have an automatic advantage in such discussions. As far as the cap is concerned, it is just a matter of time before it is lifted and companies should not be too worried about it," he said.