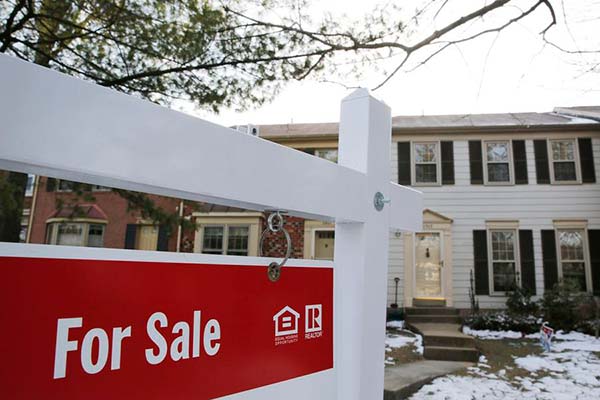 A home for sale sign hangs in front of a house in Oakton, on the day the National Association of Realtors issues its Pending Home Sales for February report, in Virginia March 27, 2014. [Photo/Agencies]
Beijing - A total of $27.3 billion, 29,195 houses – What these numbers are saying is China has been the largest buyer of US homes for the second year in a row.
Increasing activity has brought both the dollar volume and number of units sold to levels far exceeding that of any other foreign demographic.
In terms of dollar volume, the Chinese bought 26.7 percent of the total amount of residential property sold, notes Lawrence Yun, chief economist at US National Association of Realtors as quoted by news media on Saturday.
In Profile of International activity in US Residential Real Estate, market researchers at NAR outlined some major trends in Chinese activity in the US market.
Among the major foreign buyers, Chinese buyers tend to purchase residential properties in central cities and suburban areas with relatively higher property prices. The average purchase price among Chinese buyers reached $936,615, almost three times of that of Canadians, the second most generous buyer group.
About a third of Chinese buyers purchased residential property in California, New York, Texas, Washington, and New Jersey. With roughly 39 percent of Chinese buyers buying in states other than these top five states, they are among the more broadly geographically distributed foreign buyer groups.
Ten percent of Chinese buyers made purchase in the city of New York alone. Other buyer groups tend to purchase properties for vacation purposes, while New York drew Asian buyers most likely for reasons related to geographic proximity, cultural similarities, and job opportunities.
Buyers from China were more likely to purchase residential property for the use of a child studying at a US university. 13 percent of Chinese buyers purchased the property for the use of a student.
Foreign buyers from China were more likely to pay cash. Fifty percent of reported transactions were all-cash sales, while among Chinese this number is 71 percent; only 20 percent obtained mortgage from US sources.
Asia Society and Rosen Consulting Group have also published a joint report on Chinese investment in US real estate, suggesting that Chinese investors have spent $110 billion on US properties in the past five years. The number is seen growing by 20 percent every year and may reach $218 billion as of 2020, the report concludes.