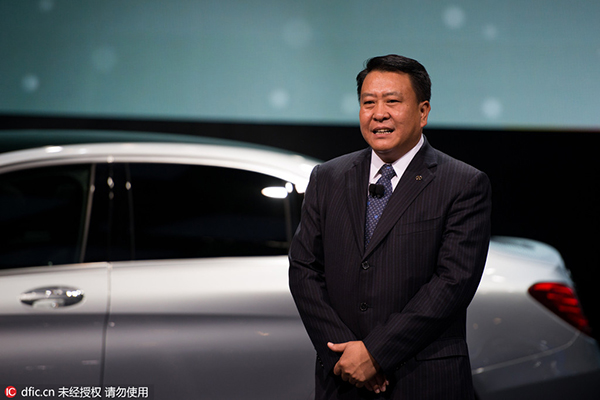 Xu Heyi, chairman of Beijing Automotive Industry Holding Co. [Photo/IC]
BAIC Motor Corp Ltd has become the biggest partner of Daimler's Mercedes-Benz brand in China. That's after a share restructuring of the German manufacturing base in eastern China.
The ownership change follows BAIC's acquisition on Monday of more than 35 percent of the shares in Fujian-based FJMotor, holding company of Fujian Benz Automotive Industry Co Ltd.
Fujian Benz, formerly called Fujian Daimler Automotive Industry Co, is a Sino-German venture that was formed by FJMotor and Daimler Vans Hong Kong Ltd, which had 50 percent stake, respectively.
Daimler has two production bases in China, one in Beijing and the other in Fuzhou.
"We hope that this share takeover will mark the beginning of more comprehensive strategic cooperation between BAIC and the rest of the shareholders of Fujian Benz," said BAIC in a statement.
Fujian Benz is Daimler's only lightweight commercial vehicle manufacturer in Asia. It encompasses brands including Viano, V-Class, Vito and Sprinter priced between 300,000 yuan ($45,600) and 600,000 yuan.
BAIC plans to turn Fujian Benz into a manufacturing base for multipurpose vehicles and passenger cars by expanding the product portfolios from the current sedan and SUV range.
Fujian Benz's production fell to zero in the first four months of this year and the prices of its vehicles have been on the decline. The actual retail price of its Sprinter model, for example, has fallen to 469,000 yuan from the list price of 499,000 yuan.
Zhang Hong, an automobile market analyst, said that the share takeover would lead to closer collaboration between BAIC and Daimler and improve Fujian Benz's finances. More importantly, the current share structure is expected to encourage Daimler's business expansion in China.
Zhang said Fujian Benz would become a key base for BAIC in East China.