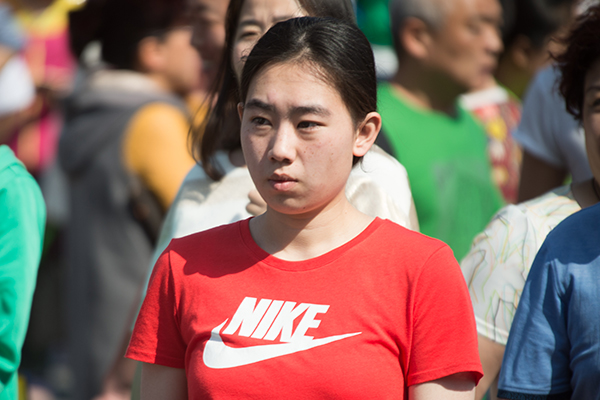 A woman in a Nike T-shirt in Jilin, Jilin province. Nike's sales in the Chinese mainland, Hong Kong and Macao are strong, with orders from September 2015 to April 2016 up between 27 and 35 percent. [Photo provided to China Daily]
For Beijing resident Alex He, the cost of a trip to the mall can easily top $3,000. He, 29, works in the finance industry and while he doesn't regularly go shopping for clothes, "when I do shop," he said in an interview, "I buy a lot." Recent purchases include several pairs of Adidas shoes that he found at an outlet mall. He also fancies Under Armour shorts and shirts. "I used to buy a lot of luxury brands but in the last year or so I've been purchasing more of the sports brands because they are more comfortable and more fashionable," said He.
Chinese consumers like He, who want to make statements when they go shopping, are turning more to Western sports brands. President Xi Jinping's multi-year campaign to reduce conspicuous consumption of luxury goods by public officials has hurt sales of Pernod Ricard, Hugo Boss and BMW. Even as sales of luxury fashion, cars and other prestige products suffer, sportswear brands are robust. Nike's sales in the Chinese mainland, Hong Kong and Macao are strong, with orders from September to April up between 27 and 35 percent. On June 6, the company announced it will work with the Ministry of Education to train up to 7,000 physical education teachers.
"Today's generation is the least physically active in history and we can help change that," Nike President and CEO Mark Parker said in a statement.
Sales in China
Sales in Chinese mainland, Hong Kong and Macao for Adidas grew 38 percent to 2.47 billion euros ($2.79 billion) last year and now account for about 15 percent of global revenue. Last year, the world's second-largest athletic brand opened more than 500 Chinese stores, taking its total to about 9,000, and wants to add another 500 this year. "We are doing very well in China," Adidas Group CEO Herbert Hainer told Bloomberg Television on May 4. Sales in the country increased 22 percent in the first quarter. "The Chinese consumer really appreciates what he gets from us," he said.
The big foreign sportswear brands are safer bets for many consumers wondering about their purchases. Chinese concerned about flaunting their big spending want to buy products that are obviously expensive but not excessively glitzy. There's still demand for "anything that gives the perception that there's a functional element to it," says Catherine Lim, an analyst in Singapore with Bloomberg Intelligence.
More Chinese are also interested in getting healthier. The fitness industry had sales of 127.2 billion yuan in 2014, an 84 percent increase over 2009. There were 3,650 fitness clubs in 2014, up from 2,930 in 2009. The Chinese government is encouraging this trend, hoping to drum up more interest in sports before Beijing hosts the Winter Olympics in 2022. "We have seen a great surge of consumers who have started to participate in running and other sports," said Colin Currie, managing director for Greater China of Adidas.
The Chinese sports industry is still underdeveloped. Sports are 3 percent of GDP in the United States but accounted for just 0.7 percent of China's GDP last year, or 474 billion yuan ($72 billion), according to a January report by ICBC analyst Jianpeng Yu. The government has a target of over 3 trillion yuan by 2020.
The sports boom has yet to pay off for some of China's home-grown brands. Competition from Adidas, Nike and other foreign brands is hurting many of them, with order growth falling from high double-digits last year to low-to-mid double digits in early 2016, according to a Fitch Ratings report published on June 3. Fitch expects "smaller domestic manufacturers' margins to come under pressure in the next five years due to increasing competition, their limited pricing flexibility to distributors and rising labor costs." As more middle-class Chinese focus on fitness, consumers "may seek more value in brand identity and product differentiation, which are weaknesses of domestic brands."
Peak Sport, which operates 6,000 stores nationwide, in May reported that same-store sales in the first quarter were flat, with the company blaming weaker consumer confidence and bad weather for the disappointing performance. Wisdom Sports, a Beijing-based sports event company, has a packed schedule of events this year, including 35 marathons and 75 cycling races. But Wisdom's Hong Kong-listed shares have dropped 57 percent this year.
To stop foreigners from dominating their home market, some Chinese sportswear brands are looking for foreign assistance. Anta Sports Products is the leading local name, with over 9,000 retail outlets in the mainland, Hong Kong and Macao, and in February announced plans to form a joint venture with Japanese skiing brand Descente and Itochu, another sportswear maker from Japan.