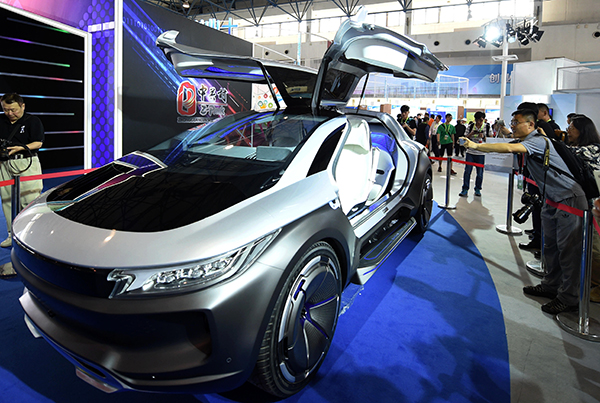 An intelligent car attracts attention at the Beijing Internet High-tech Expo on May 19, 2016. [Photo/Xinhua]

China's industry warned over the potential problem posed by 'intelligent future'
The Chinese authorities and stakeholders have called on domestic carmakers to push the pedal to the metal in concerted efforts in new technologies, as leading global automakers accelerate towards an intelligent future, leaving the local industry in their dust.
The consensus by automotive insiders is that every carmaker needs to transform itself into a smart mobility solution provider, as the industry is developing rapidly thanks to the introduction of disruptive technologies.
"The future 10 years of transformation to be made in the automotive industry may overtake that of the past five decades," said Wang Xia, chairman of the automotive committee of the China Council for the Promotion of International Trade, at the seventh Global Automotive Forum in Chongqing on June 6.
He said: "The connected intelligence technologies have been developing much faster than people's expectations. The cars are becoming more and more powerful, autonomous driving vehicles are now a reality ... intelligence, connection and electrification have evolved to be a clear trend."
Michael Ableson, General Motors' vice-president for strategy and global portfolio planning, said autonomous driving, connection and electrification are forces to change the future.
Wang Ruixiang, president of the China Machinery Industry Federation, agreed with the future direction of intelligence and electrification, but pointed out that the Chinese automotive industry "is weak in independent innovation".
The automotive intelligence competence of China lags behind the world's auto powers in terms of development levels, professional expertise and other related criteria.
The nation's intelligent vehicle development ranked eighth among the nine surveyed countries, according to a Roland Berger Strategy Consultants report released in February.
Roland Berger found China and Italy scored the lowest in intelligent vehicle technology, while Germany and the United States topped technology development, followed by Sweden.
Xin Guobin, vice-minister of the Ministry of Industry and Information Technology, said in April that the ministry has been working on top-level design and a standardization system for connected intelligent vehicles.
The government body is also planning cross-ministries and cross-fields cooperation for data service platforms and the connection environment.
Connection
Li Keqiang, director of the automotive engineering department at Tsinghua University, said: "The intelligence of vehicle development requires the technologies of big data cloud computing, and vehicle-to-vehicle communication."
Vehicle intelligence is based on the real-time calculation of big data collected by sensors and radars in the vehicle.
The current solution uses a combination of an in-car computer and cloud computing system.
The computer in the car reacts instantly to emergent safety threats. A lot more traffic information is uploaded through wireless connections to a cloud server for further processing, and the results are downloaded to command the vehicle.
The solution requires fast wireless connections to transmit big data in a flash, and powerful enough servers to process the information in a brief period.
General Motors demonstrated its Vehicle to Everything technology, or V2X, including V2V, Vehicle to Infrastructure and Vehicle to Pedestrian communications, on June 7 in Shanghai.
The US carmakers' V2X technology supports Intersection Collision Alert and Emergency Brake Alert, 11 years after its prototype V2V system that gave the vehicle a "sixth sense" in 2005.
Tests at the National Intelligent and Connected Vehicle Test Demonstration Base have full access to Wi-Fi, LTE-Vehicle and dedicated shortrange communications.
When driving outside of the base, however, carmakers have to join with communications operators and internet service providers. The State-controlled mobile operators are working on 5G mobile communication networks to fix the bandwidth bottleneck for data exchange.
The 5G data transmission, 100 times faster than 4G, is capable of transferring more data within a shorter period of time, and 1 million access points are planned to be built in each square kilometer, making V2X communication possible, according to China Mobile.
Electrification
Experts expect that all connected intelligent cars and autonomous driving vehicles would be electrified in the future.
Wang Ruixiang said: "The chances for China may lie in the transformation towards a green and intelligent trend, so as to boost international competitiveness."
However, not a single Chinese company owns world-leading advanced technology, although several have some ,technologies that will be obsolete soon, according to Jia Xinguang, a senior analyst with the China Automobile Dealers Association.
Most profits make their way into international suppliers' pockets, because the domestic companies don't own core technologies, composed of electric motors, control units and traction batteries.
Jia said: "There are many NEVs, claimed to be self-developed, that have so many purchased parts installed as research and development were done superficially on indifferent things.
"For example, fitting the purchased electric motor, control unit and traction battery into the shell of a gasoline model."
Wang Xia expected new-energy vehicles to become mainstream in China and lead the globe, as the domestic market sold 331,092 units of NEVs in 2015, the highest in the world.