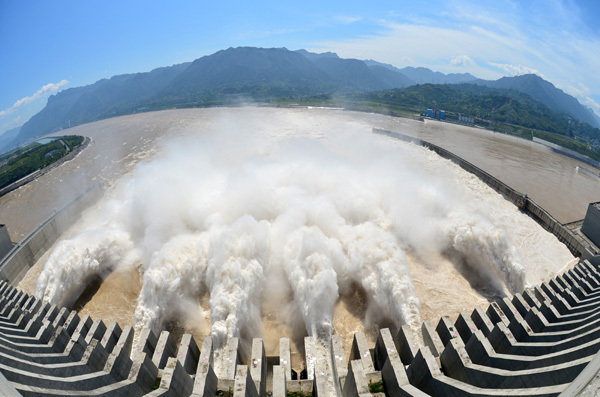 The sluice gates of the Three Gorges Dam. [Photo/Xinhua]
China Three Gorges Corp, the world's biggest hydropower builder, is further diversifying its business into the offshore wind market by buying the Meerwind, a major German offshore wind farm, from US buyout and investment firm Blackstone Group LP.
The Beijing-based hydropower company inked a deal on Monday to buy Blackstone's majority stake in WindMW, a German offshore wind farm operator, according to a CTG statement.
The German group owns the 288-megawatt Meerwind project in the North Sea. Located about 53 kilometers from shore, it is one of Germany's biggest offshore wind farms.
CTG, builder and operator of the world's largest hydropower project Three Gorges Dam, said the acquisition not only enables it to gain assets but also WindMW's skilled staff, who have developed and managed the construction and operation of the wind power project.
The terms of the sale were not disclosed, but people familiar with the deal said they expected it to be valued at around 1.6 billion euros ($1.8 billion).
The wind farm consists of 80 wind turbines with a power output of 3.6 mW each. CTG said it is one of the most promising offshore wind businesses in Europe, as it combines good wind conditions with convenient water depths of 22 meters to 26 m and the nearby island of Helgoland, which is used as a maintenance base.
The Chinese hydropower company has started to explore wind, solar, nuclear and other forms of new energy beyond its core business, as potential new domestic hydropower opportunities have dried up.
Wang Lin, president of the State-owned company, said that during its 2015 annual meeting the company planned to strengthen cooperation with Portuguese power company EDP-Energias de Portugal SA, in which CTG is a major shareholder, to jointly explore offshore wind markets such as the United Kingdom.
EDP unit, EDP Renewables, is the world's third-largest wind-energy producer and operates wind farms throughout Europe, the United States and Brazil.
The latest deal is a further step for the company into the European wind power market beyond its core business. The company has already developed some offshore wind power projects in China.
"It is a smart move when not many large hydropower projects remain untapped, while the offshore wind industry has huge potential for growth in the long term," Lin Boqiang, director of the China Center for Energy Economic Research at Xiamen University.
Meerwind is the biggest wind power project ever acquired by a Chinese group in Germany. It makes CTG the first Chinese firm to own a controlling stake in an overseas offshore wind project, the statement said.
CTG generated about 201 billion kilowatt-hours in 2105 and its net profit was 34.5 billion yuan ($5.2 billion) last year.