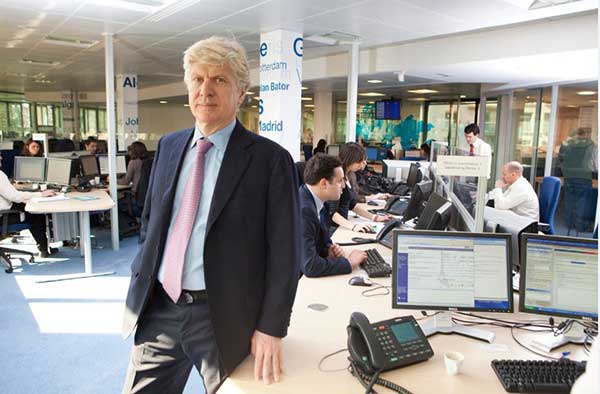 Arnaud Vaissie, co-founder, chairman and CEO of International SOS Pte Ltd.[Photo/China Daily] 

Medical assistance firm targets expanding corporate market
Attracted by the global footprint of Chinese companies and their growing need to look after their international workforce, International SOS Pte Ltd, the world's leading provider of medical assistance, emergency services, evacuation and repatriation services, is optimistic about expansion in China.
"We aim to triple our Chinese clients in the next five years. We will be happy to see a 15 to 20 percent growth per year in revenue in the same period," said Arnaud Vaissie, co-founder, chairman and CEO, on Monday. The company's Chinese revenue grew by 23 percent year-on-year in its last financial year ending June and the trend is expected to continue, according to its CEO.
Last year, its global revenue was $1.5 billion, about 10 percent of which was from China.
Two reasons contributed to the high growth, Vaissie said. The first is the Chinese government's policies, such as the Belt and Road Initiative that encourage companies to expand internationally. Second, more and more Chinese companies are at the forefront of international business so they need to ensure the security and well-being of their employees working overseas.
International SOS has 98 Chinese clients, 35 of which were new last year, including Bank of China Ltd, UnionPay and Huawei Technologies Co Ltd. Its clients also include government agencies, such as the Ministry of Foreign Affairs and the Ministry of Culture.
The company entered China in 1989 to support foreign companies operating in China. But the 98 Chinese customers now account for 30 percent of its China business, with the rest from multinational firms.
Vaissie said the company plans to raise the ratio to more than 50 percent in three years. "Our Chinese clients sent more and more employees to abroad, fewer and fewer are from international clients."
China, as International SOS' 5th largest market, is also one of its two fastest-growing markets along with the United States. In China, the company now has 30 locations, including six clinics that are joint ventures with Raffles Medical Group, one 24-hour assistance center, two dedicated aircraft, 700 employees and 700 partnered service providers.
Vaissie said that developing business with Chinese clients is different from his experience in the West. Chinese clients are more centralized with more reporting to multiple management levels; while in the US, business decisions are more driven by the final users.