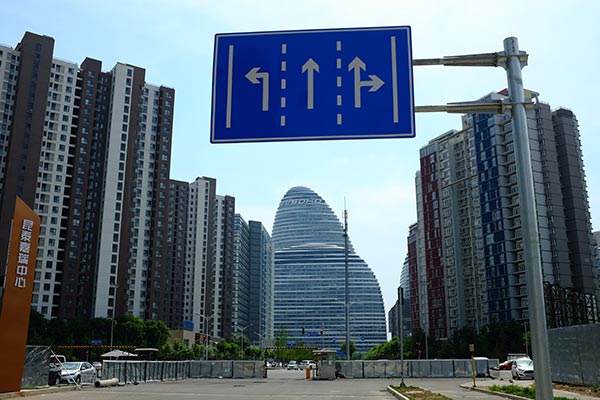 High rise residential flats are under construction in Beijing, May 18, 2016.[Photo/IC]
A Beijing housing official has denied speculation the online registration of business property purchases will be suspended from today.
It comes after salespersons from several property projects in Yizhuang Economic and Technology Development Zone, based in south-eastern Beijing, claimed purchases would cease from 12:00 am this morning.
"The online registration will be suspended tonight, and Beijing will restrict business property purchases beginning July 1. You'll have no chance anymore if you don't buy one now," a salesperson told the Beijing Morning Post, yesterday.
But an official from the Beijing Municipal Commission of Housing and Urban-Rural Development told the newspaper today it's not true, denying online rumors.
Rumors that Beijing will restrict business property purchases have been circulating in Beijing's real estate market since the Mengtougou district, a suburb in Beijing, suspended online registration on June 6.
It also drove up the transaction of corporate apartments.
During the week that ended on June 12, 3,701 corporate apartments were sold in Beijing, with a total transaction amount of 12.04 billion yuan, according to data released by real estate company Centaline Property. Earlier, the weekly transaction volume was 1.4 to 2.4 billion yuan.
Last month, Beijing extended its real estate restrictions in Tongzhou for the first time to cover business property and force out speculators.
Under the new policy, families without household registration in Beijing, unmarried Beijing residents who already own homes and families that own more than one home are among those no longer eligible to purchase corporate apartments in Tongzhou.
Those from outside Beijing will only be allowed to buy corporate apartments in the district if they have made tax and social security payments in Beijing over five straight years.