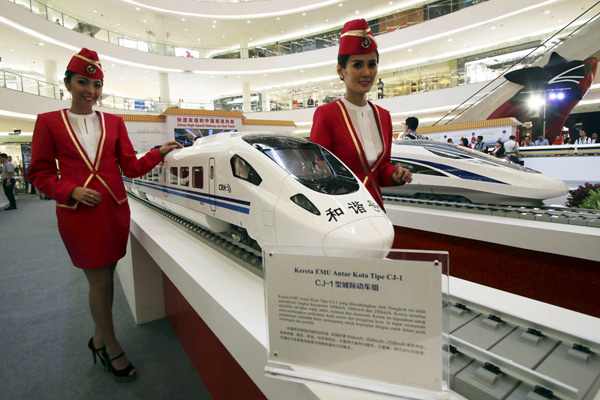 Attendants pose for a photo beside the models of a high speed train during the China High Speed Railway on Fast Track exhibition in Jakarta, Indonesia, Aug 13, 2015. [Photo/Agencies]
China's domestically produced wheels for high-speed trains traveling faster than 250 kilometers per hour will be ready to replace the imported ones as early as in the first half of 2017, according to a leading Chinese train wheel maker.
"Currently, the wheels used on the Chinese high-speed trains, except those for experimental and test purposes, are all imported," said Su Shihuai, vice-president of Ma'anshan Iron & Steel Co Ltd, a publicly traded company controlled by Masteel Group.
He added that such an "embarrassing" situation will be changed next year.
The company, more widely known as Magang Group or Masteel, said its train wheels with speed standards of 250 km/h and 350 km/h have so far undergone more than 300,000 km and 250,000 km of field tests, respectively.
"When completed, the whole test for each of the two specifications should cover a distance of 600,000 km," he said.
After the tests, conducted by the China Railway Test & Certification Centre, the wheels will go into mass production.
"The prices of such wheels are expected to drop significantly then, which will benefit the development of the high-speed train sector at home and abroad," said Su.
Established in the 1950s and located in Ma'anshan in eastern China's Anhui province, Masteel was the birthplace of the first train wheel production line in China in 1964 and enjoys about a 50 percent share of the domestic train wheel market.
Masteel signed an agreement in 2008 with the Ministry of Railways, which is now called China Railway Corporation, to localize manufacturing of wheels for high-speed trains.
Gao Haijian, president of the group, said that developing the high-speed wheels has been time-consuming with great challenges, especially when the country's steel sector has been deeply trapped in overcapacity difficulties in recent years.
Masteel produced about 20 million metric tons of iron and steel last year. "Though wheel manufacturing consumes just slightly more than 1 percent of Masteel's iron and steel production, it has been one of the most profitable components of the group for decades, with an average profit rate of about 30 percent," said An Tao, manager of Masteel's wheel company.
Other difficulties come from the declining domestic demand for traditional train wheels. In the first four months this year, the wheel maker sold 32,400 tons of train wheels, down about 20 percent from the same period of last year.
With the rapid development of China's high-speed railways, both at home and abroad, Masteel is aiming to seize a significant market share in the emerging and rapidly developing markets with the set-to-be-launched wheels, according to Su.
He also said the company's first axles for high-speed trains will be ready for field tests by the end of the year. In April, Masteel started construction of its first train axle production line, which will have a capacity of producing 40,000 axles for multiple types of trains annually.