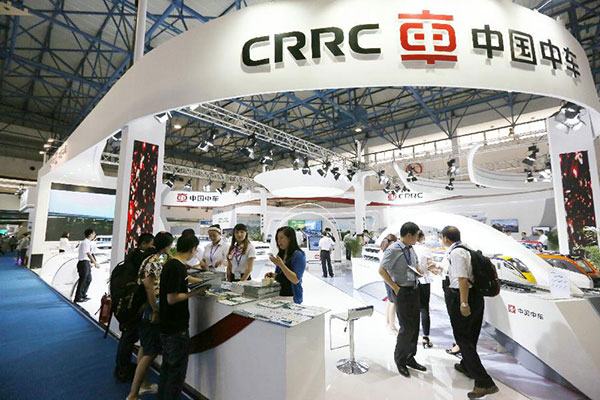 People visit the exhibition stand of CRRC Corp, a new conglomerate formed by the merger of China's top two high-speed rail makers, China North Railway (CNR) and China South Railway (CSR), at the UrTran 2015 International Urban Rail Exhibition in Beijing, capital of China, June 16, 2015.[Photo/Xinhua]
JINAN - A subsidiary of China Railway Rolling Stock Corporation (CRRC) has won a deal to make 800 freight cars for Pakistan, the company said Thursday.
The deal, with expected sales revenue of over 200 million yuan ($30 million), is the largest overseas order for CRRC Jinan Co, said a manager with the company.
The trains will include 780 coal hopper cars and 20 cabooses, said the manager.
Founded in 1910, the CRRC Jinan is one of the oldest rail enterprises in China. Its products, including cargo trains, wind power equipment and intelligent machines, have been exported to more than 40 countries and regions.
CRRC, formed from the merger of former rivals CNR Corp and China CSR, has been actively bidding for contracts in overseas markets in recent years and has sold equipment to more than 100 countries and regions.