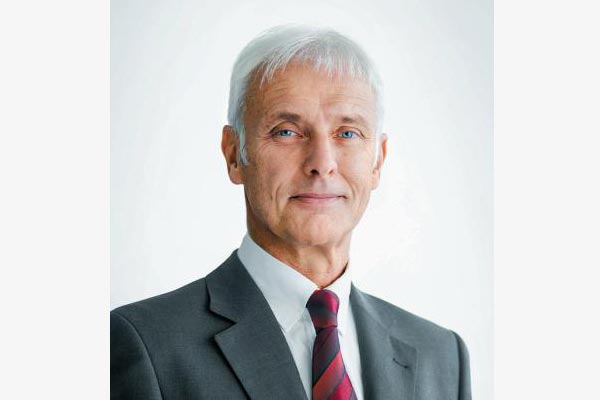 Matthias Muller, CEO of Volkswagen Group.

[Provided to China Daily]

Editor's note: With the Beijing auto show around the corner, China Daily's motoring reporter Li Fusheng held an exclusive interview with Volkswagen Group CEO Matthias Muller on a number of topics ranging from its investment plans to the future of the automotive industry. the following are some excerpts.
The Associated Press reported that Volkswagen is cutting investments and laying of employees. Will Volkswagen curtail its investment in China?
People are always one focus of our strategic thinking. Consequently, Volkswagen sets great store by a fair and safe working environment for our employees. This also includes secure jobs-even in difficult times. As things stand at the moment, we do not see any impact on our permanent jobs, and we will do everything in our power to ensure that things stay that way, too.
In terms of our investment plans, we won't make the mistake of economizing on the future. We are systematically making our investments even more targeted, focusing on the technologies of tomorrow and realigning our model range to meet consumer demand even more effectively. This year, for instance, we will be increasing research and development investment in alternative drive technologies by approximately 100 million euros ($113 million). We will also be growing our digitalization and connectivity services across our brands.
Let me also emphasize that Volkswagen Group China and its joint venture partners are fully committed to their investment plans. We are spending over 4 billion euros in 2016 and much of this sum is earmarked for highly efficient, eco-friendly products and advanced production processes. Creating even more jobs is another element of our strategy for China. Our goal is to employ more than 120,000 people by 2019-that is some 30,000 more than today.
Is there a plan of a possible partnership between Volkswagen and Chinese automaker JAC?
We greatly appreciate the confidence and trust shown in us by the auto industry and the Chinese government as expressed by the comments of Premier Li Keqiang. So far, there have been friendly talks. We will update the public as soon as there are further developments.
GM outperformed Volkswagen in sales in 2015 in China while globally Toyota kept its crown. Does Volkswagen have a plan this year to beat them?
We will of course continue to work hard to convince as many people as possible of just how amazing our products are. But sales volume must never be an end in itself. Ultimately, whether we sell 100,000 vehicles more or less than our main competitors is less important than the satisfaction of our customers, the quality of our earnings, the appeal of our products, retaining and attracting talent, and sustainability at every step along the way.
Volkswagen is empowering regional markets to be even more responsive to the demands and tastes of our customers, particularly China: 10 new locally produced SUVs will be rolled out in the next three to five years, joined by 15 new locally produced NEVs by 2020. We are also introducing new digital services, new connectivity products in all our cars, and autonomous driving technology to increase safety for everyone on the road. Our high-efficiency combustion engines, new NEVs and sustainable production will foster green mobility, providing solutions for China's environmental challenges. All of this will also help to enhance our strong position in this great market.
What is Volkswagen's timetable for fixing the diesel cars affected in China?
Nothing is more important to us than satisfied customers, and their trust in our brands. Concerning the diesel issue, we are putting together an individual package of measures for each market designed to achieve high customer satisfaction. The technical solution for the 1,950 affected Volkswagen diesel vehicles in China will be immediately implemented once it has been approved by the relevant Chinese authorities. Over and above the vehicle refits, we will also be offering excellent customer support through our dealers.
What is your plan to redeem the brand image in a country where the Volkswagen name quite literally stands for "the People's Car"?
China means a great deal to us, and to me personally. My colleague, Professor Jochem Heizmann, acting in his capacity as board member of Volkswagen AG, has apologized to all of our customers. I would like to add my own sincere apology to that. Our top priority is to satisfy our customers and offer them exciting mobility solutions. Millions of Chinese customers have put their valued trust and their families' safety in our hands for decades-their trust is the basis for everything we do.
As you know, at last year's Guangzhou Auto Show, the Volkswagen brand in China launched a new tagline, changing from "Das Auto" to "Volkswagen-Cars for All People". This new brand tagline mirrors the changes that are underway in our entire company. We need to get even closer to our customers. In terms of our products, new services and our communication.
What are Volkswagen's plans in the areas of electrification and connectivity particularly in the Chinese market?
Never before has our industry experienced such a quantum leap in innovation. The car of the future is all electric, fully connected and highly automated. It is more intelligent, more comfortable and safer than ever. It is part of a mobile ecosystem that will fascinate people and bring progress to society, while helping to address environmental challenges. We want to shape this new world of mobility. So Volkswagen is striving to transform itself from a car manufacturer into a global mobility group. "Shaping the future of mobility" also means learning from our experience here in China. We view China as an incubator for innovation and new technology, and a source of solutions that can be transferred to the world.
Take urbanization, for instance. Between 1990 and 2015, China went from being overwhelmingly rural to being a majority urban society. In the next 10 years, hundreds of millions more people will move to the cities. China's urban planners must grapple with city populations of more than 20 million, high traffic density, and grave environmental threats. Furthermore, "Made in China 2025" has set challenging fuel consumption reduction targets and, as a result, more and more cities in China are implementing different types of restrictions for cars with internal combustion engines. So for us it's crystal clear: the future of e-mobility is strongly connected to this market-in China, the future is now. China will be the fastest-growing market for NEVs worldwide, and Volkswagen aims to be at the forefront of electrifying China. In the next three to five years, we will be introducing 15 new locally produced NEV models and offer the largest NEV portfolio in China. Localization will be a major facet of our NEV offensive with many key components expected to be made locally.
Could you offer our readers more details about the plan of building a technology center in China?
In 2015, we founded "Team X" here in China, a group of young colleagues from different departments who come together to innovate new digital service offerings. Also, a new "Volkswagen Group Future Center", one of three global innovation hubs, will be located in China. That is where designers and digitalization experts will work hand in hand on the car of the future. The mission: to make our vehicles best in class in terms of customer experience, interface design, operating logic, new interior concepts, and the integration of information and entertainment. I am excited to see what visionary concepts will emerge from this new, groundbreaking approach in our industry.
Why is Volkswagen shifting its focus to customer experience? What role will the Chinese market play in the new era of Volkswagen?
Electromobility and digitalization will alter our business to an extent that many today have not yet fully grasped. If the automotive industry does not want to run the risk of having its status downgraded to that of a hardware supplier, we have to make sure we take advantage of the big technological trends ourselves: by intensifying our own perception of the car as a "mobile device". By greatly expanding our digital competence. And by fostering a new mindset: faster, more pragmatic, visionary and even more customer-focused.
For the Volkswagen Group I can say: We want this change. And we are driving it forward. The new leadership team is in place. And implementation of the new, decentralized group structure is making progress. The new mindset that we wish to establish-openness, cooperation and the courage to break new ground-is beginning to take hold. Our "Strategy 2025" is taking shape, too. It lays the foundation for Volkswagen to play its part in shaping the future of mobility with competence, drive and courage.
China plays a crucial role in our transition: starting here, we are optimizing design concepts of the future to maximize user experience; providing advanced, responsive digital technologies in our vehicles; and effecting a shift in mindset, developing new agility and vision.
Besides you, Johann Jungwirth was in the media limelight on the night before the Geneva auto show. Why?
Connectivity and autonomous driving are vital to the future of mobility. Our work in these two areas will help Volkswagen provide a better product and service offering across the entire group and our brands. This is where Johann Jungwirth, our new head of digital transformation, will play a big role. He has worked for years in Silicon Valley and is very enthusiastic about the new world of mobility we want to build. For me it's also important to show the people behind our work, it's important to give new technologies a human face. The Volkswagen Group is not just driving people-people also drive us.