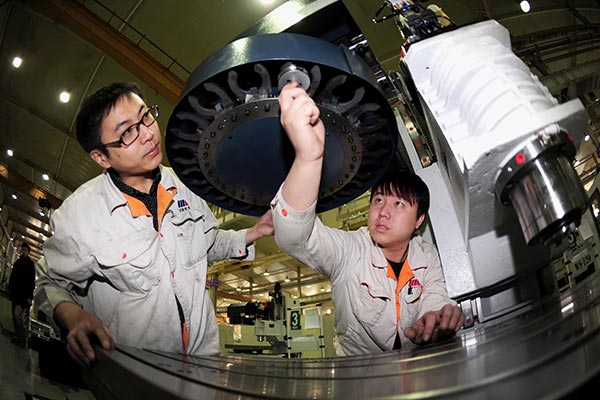 Workers at Shenyang Machine Tool Co Ltd prepare for a youth vocational skills contest. WANG NAN / FOR CHINA DAILY
Shenyang Machine Tool Co Ltd, China's leading machine tool manufacturer, has set up a 3 billion yuan ($463.2 million) fund for the development of smart machine tools.
The company made headlines last week by launching the world's first intelligent integrated machine tool.
Shenyang Machine Tool, which is transforming itself from an industrial manufacturer to an industrial service provider, also plans to build 30 smart factories this year.
The new factories will provide a range of services, including leasing of machine tools and production line design.
The company said that 1.38 billion yuan, or 46 percent, of the fund will be used to upgrade existing industries with intelligent machine tools, thus converting them into smart plants equipped with Shenyang Machine Tool's i5 series products. Once upgraded, they will likely have a capability to lease 4,000 smart machine tools.
The fund will allocate 345 million yuan toward building a platform for technology innovation.
The company said its projects are in tune with the national policy for innovation and its own larger strategy to boost profitability and competitiveness.
"The fund will help Shenyang Machine Tool Co Ltd to consolidate its leading position in the industry. Also, it will help the company manage risks better by optimizing the asset structure," said Liang Qidong, vice-president of Liaoning Academy of Social Sciences.
Shenyang Machine Tool's i5 series is its key product, a result of much research and development and an investment of 1.15 billion yuan. It is capable of intelligent programming, graphic diagnosis and simulation, and online analysis.
i5M8, the latest product in the series, was launched last week at the Ninth China CNC Machine Tool Fair in Shanghai.
The company created its machine tool leasing model in 2014. Under this model, it provides intelligent machine tools for use by small and medium-sized companies, allowing the latter to pay for the service by either the duration of the use or output.