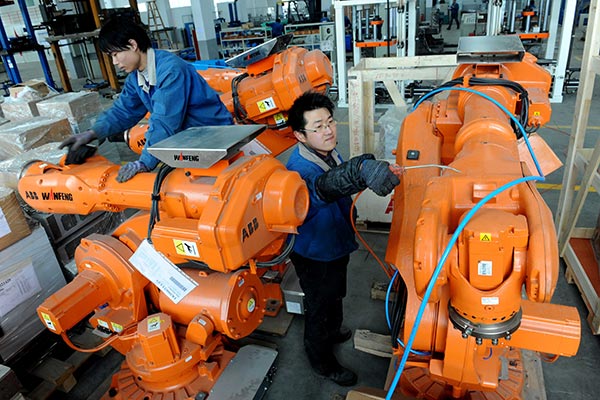 Workers at Zhejiang Wanfeng Technology Development Co Ltd prepare robots for shipping. LIANG ZHEN / FOR CHINA DAILY
Chinese robotics maker Zhejiang Wanfeng Technology Development Co Ltd has acquired Paslin Co, a US robotics firm focused on the automotive sector, for $302 million.
Wu Jinhua, Wanfeng's chairman and CEO, said: "Paslin has accumulated advanced technologies and client groups in the field of automated welding in North America, and this acquisition could not only help Paslin realize its globalization, but also enhance Wanfeng's competitiveness in industrial robot system integration technology."
Wu called the acquisition a win-win situation.
Chen Ailian, chairman of the Zhejiang-headquartered company, said through the acquisition, Wanfeng could enter into a bigger market and narrow the gap with the world's cutting-edge equipment manufacturers.
Chen added that the company's robotics business could exceed $10 billion in the future, considering the huge demand for robots in the Asian market.
Established in 1937, Paslin is the world's leading provider of welding robot application systems to the global automotive and heavy industries market.
Founded in 1994, Wanfeng's parent, Wanfeng Auto Holding Group, has interests in auto parts manufacturing, industrial robots, intelligent equipment, aviation and financial services.
In 2013, the group purchased Canada's MLTH Holding Inc, the world's leading manufacturer of magnesium alloy auto parts for 1.1 billion yuan ($170 million).
Statistics from the International Federation of Robotics show that sales of industrial robots reached 57,000 units in 2014 in China, accounting for one-fourth of the global sales. China has become the largest industrial robots market for three consecutive years since 2013.
The industrial robots are mainly employed in the automotive industry, where they are programmed to take over such jobs as welding and spray painting.
However, due to limited core technology, China has been facing difficulties in research and development, as well as in manufacturing of automotive industrial robots.
Qu Xianming, an expert of advanced manufacturing technology and equipment and executive director of the Chinese Mechanical Engineering Society, said: "Wanfeng could acquire advanced welding robot technology through this acquisition, which will be used in the entire vehicle manufacturing process that Wanfeng hasn't tapped into in the past. It is a new business growth point for Wanfeng."
China still lags behind other countries in industrial robots as the core technology is held by foreign companies, Qu said.
"We could make up for the deficiency in this field."
Gao Yuan contributed to this story.